Sheffield Independent Media Centre (IMC) — independent grassroots news from Sheffield and beyond!
IMC UK | 28-04-2017 20:19 | Indymedia | Birmingham | Cambridge | Liverpool | London | Oxford | Sheffield | South Coast | Wales | World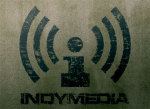 Open publishing was disabled on this site in mid-July 2016 as there was a very low volume of original grass roots news reports from activists being posted and the collective running the site was dwindling as people were working on other things. From 1st May 2017 this site is a static archive and will no longer be updated.
The history of UK Indymedia is somewhat documented under the Indymedia topic but the full history is yet to be written and perhaps never will be... but this archive will remain available.
See you in the streets!
(Read more )
solidarity collective | 05-03-2015 23:42 | Health | Public sector cuts | Repression | Birmingham | Cambridge | Liverpool | London | Oxford | Sheffield | South Coast | Wales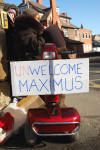 On Monday 2nd of March 2015, there were demonstrations in over 30 towns and cities around the UK (plus Toronto) against Maximus, the US based health insurance corporation that has taken over the contract from the French IT Company Atos to administer the Work Capability Assessment on behalf of the Department Of Work And Pensions. Atos announced its exit from the contract in early 2014 following an intense period of direct action against the company by groups such as Disabled People Against the Cuts.
The day of action was timed to coincide with the first working day of the new contract, with the spotlight turned on Maximus as well as the continued use of Work Capability Assessments and the life-threatening consequences of the ongoing government attacks on the sick and disabled.
In central London, to the chorus of "David Cameron is a W*****" (YouTube) activists from DPAC hit the streets, taking direct action to block traffic and at one stage bringing traffic to a standstill on Victoria Street in the shadow of Big Ben.
The demonstrations across the UK on the streets were complemented with an online Twitter campaign using the hashtags #Maximarse and #ScrapWCA, the latter trending for a number of hours. This gave the opportunity for those unable (including through sickness and disability) to make it to demonstrations to vent their anger and frustation around the Work Capability Assessment and at a government hell-bent on targeting the sick and disabled.
On the Newswire: Maximarse is more than a farce | Mental Health Resistance Network Statement | Wrexham joins National Day of Protest Against WCA & Maximus
Other links: Johnny Void | Video: Maximarse the Movie (YouTube)
26-06-2013 10:56 | Anti-racism | Migration | Repression | Sheffield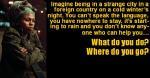 Shared National Day of Asylum Seekers Taking Action
This Saturday 29th June will see protests across the country by asylum seekers and supporters calling for 'Dignity not Destitution'.
In June 2012, 250 asylum seekers and supporters marched through Bristol to tell people our problems and to demand Dignity For Asylum Seekers [ Report | Press Release ]. This gave us more confidence to speak out. After last year's march we campaigned to get Bristol City Council to support us. We are pleased to say that in January they voted overwhelmingly to support us and condemn the government's policy on forced destitution. Now, we are joining together with groups around the country to take action on the same day to say that forced destitution is wrong. Read the full article for details of events around the country.
On the newswires:
Call-outs for 29 June Leeds | Glasgow | Previous Bristol actions: Reports 1 | 2 | 3 | Audio 1 | 2
Other links:
Still Human Still Here | City of Sanctuary
(Read more )
IMC Sheffield | 05-12-2012 15:16 | Climate Chaos | Ecology | Sheffield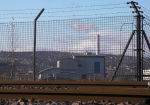 Sheffielders have been diligently sorting their waste for recycling for many years. The idea is to reduce waste going to Landfill and Incineration. As a reward for all their diligence Sheffielders will now have to put up with Veolia importing even more waste from further afield to an Incinerator built in the heart of their City.
IMC uk features | 05-03-2012 12:23 | Workfare | Public sector cuts | Workers' Movements | Birmingham | Sheffield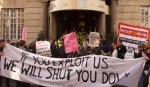 Protests took place outside stores across Britain on 3rd March 2012 as campaigners stepped up their opposition to the ConDem workfare slavery scheme, (started under Labour,) by taking the online campaigns, which have resulted in many firms pulling out, onto the streets .
In Edinburgh two Tescos were 'invaded' and pickets were mounted outside a Poundland and British Heart Foundation store. The Edinburgh Coalition Against Poverty delivered a letter to the BHF store insisting "that BHF withdraws completely from the Work Programme and all workfare schemes"
Bristol cops arrested two protestors at a picket of a McDonalds, and a solidarity action was held outside Trinity Road cop-shop later in the day. In Birmingham about 50 campaigners stopped off at Sainsburies and Superdrug to congratulate them on pulling out the scheme, whilst pickets were held at Poundland and McDonalds. In Sheffield campaigners who were chucked out of a Tesco on West Street, continued their tour with visits to stores which included Marks and Spencers, McDonalds and Primark. Nottingham campaigners picketed Wilkinsons before moving on to other stores
In Lewisham, McDonalds, Boots, Greggs, BHS and Primark werre targeted by a group of about 30, whilst Oxford Street saw a few dozen campaigners target outlets including McDonalds, Pizza Hut and Holiday Inn in a game of cat and mouse awith the police. On Friday Ian Duncan-Smith was challenged by protestors as he arrived at a conference in Tottenham. He insisted that "workfare is a brilliant scheme".
[Read more.]
Newswire: Workfare conference cancelled due to protest | Workfare Unravels | 'It's exploitation and it's repellent' | Tesco's Secret Workfare Slaves | Demo shuts Westminster Tesco | GMB Union Promotes Workfare as Answer | DWP Locks Down FOI Responses | Legal Challenge to Government's slave labour scheme
Links: Boycott Workfare | Asda and Argos choose workfare over work | The Homelessness Charities Involved | Anti-workfare action in Brighton | Create Jobs – Scrap Workfare | Edinburgh Tescos invaded |
Sheffield Social Centre | 21-02-2012 00:44 | Culture | Free Spaces | Sheffield

The Black Rose Centre is a new social centre project (PDF Flyer) at 268 Verdon Street, established by the Sheffield Social Centre Collective. This is the first time that the Social Centre Collective has had a permanent space, previously there have been weekend events held by the collective such as the Free Schools in 2011 and 2010 and there were two, short lived, squatted buildings in 2009.
On Wednesday 22nd of February at 7:30pm there will be a discussion on setting up a Sheffield Wide Class Struggle Anarchist Group following a screening of An Anarchist's Story. On Friday 24th February at 6pm there will be the opening of QUEER: an exhibition of local artists' work in response to "LGBT History Month", the deadline for submissions for the show is Wednesday 22nd February.
Newswire: Queer - 24th-26th February 2012 | Calling All Sheffield Anarchists | New Social Centre in Sheffield: The Black Rose Centre
Links: Sheffield Social Centre Collective | Open Street Map
UK Indymedia Features | 05-02-2012 15:18 | Workers' Movements | Birmingham | Sheffield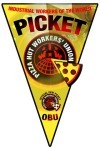 On 4th Feburary 2012 Sheffield Pizza Hut Workers Union, part of the IWW, held a protest outside Pizza Hut in Crookes, Sheffield over their ongoing dispute over workers terms and conditions. Solidarity potests were held in Brighton, Bradford, Glasgow, London, Birmingham, Bristol [1, 2], Hull, Liverpool, Calais, Portland, Vancouver and Berlin.
The dispute centers on several specifics aspect of the workers terms and conditions, pay for working on bank holidays, mileage rates and also recognition of the union. Whilst it has been standard practice to pay workers an enhanced rate for working bank holidays, Pizza Hut has decided that it will only pay the standard rate. Delivery drivers who use their own vehicles are given an allowance of 60p per delivery, a static rate which has remained unchanged for several years despite the soaring cost of fuel. Furthermore, "The Pizza Hut Workers Union also has concerns outside of this dispute, including delivery staffs safety gear, a decreasing pay packet that falls behind inflation and a demand for a real living wage for all Pizza Hut workers."
Newswire: Pizza Hut Workers Demand A Proper Slice | Solidarity Picket Glasgow With IWW Pizza Hut Workers Report | London Wobs' Solidarity Picket with IWW Pizza Hut | Pizza Hut Solidarity in Bradford | SchNEWS: Gimme A Slice OF The Action | Pizza Hut solidarity in Brighton | Solidarity Picket in Bristol with IWW Pizza Hut Workers | Birmingham IWW Solidarity Picket with IWW Pizza Hut Union
Links: Sheffield Pizza Hut Workers Union | IWW General Membership Branch Sheffield | IWW | Pizza Hut Workers Call Out for Solidarity | Liverpool Solidarity Federation picket Pizza Hut
(Read more )
Sheffield Indymedia | 20-01-2012 22:57 | Occupy Everywhere | Sheffield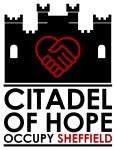 Occupy Sheffield is hosting the 3rd National Occupy Conference over the weekend 20th-22nd January 2012 at the camp outside the Cathedral, and the squatted Citadel of Hope (map).
On Saturday at 1pm was a A Rally of the 99%, "a voice for the voiceless – to raise awareness of the issues of people without a voice" in front of Sheffield Town Hall, photos and audio from the rally.
On Saturday night there a Occupy Sheffield Benefit Bonanza at the Dove and Rainbow with Roy Bailey at 8pm. Last winter Roy Bailey played a set at the Sheffield University Occupation and you can listen to that here.
Sheffield Cathedral has served court papers on Occupy Sheffield, there is to be a court hearing on Thursday 26th January and the Cathedral, representing the establishment, is trying to scare Occupy Sheffield and especially the people named in the papers with the threat of costs being awarded against them. The Citadel of Hope has been secured for a month following a court case and agreement with the owner.
Newswire: Occupy Sheffield's Rally for the 99% | Cooperatives, Credit Unions and Experience of a Social Care Coop | Richard Murphy Talk on UK Tax from Occupy Conference | What the Third National Occupy UK Conference Can Teach Us
Links: Conference Wiki Page | @OccupySheffield on Twitter
(Read more )
@ukindymedia | 10-01-2012 22:15 | Occupy Everywhere | Free Spaces | Policing | Liverpool | Sheffield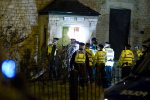 As UK occupations squat more buildings the police, many of whom have criminal records, are flouting the law to harass protesters, the Lords are debating making squatting residential buildings illegal, the government plans to make hundreds of thousands homeless and Occupy LSX is threatened with eviction.
On 8th January 2012 40-50 police officers raided the Railton Hotel, next to the train station in Lancaster, which had been squatted by Occupy Lancaster the day before. At approximately 8.15 pm, the police used a battering ram to break through the front door. Once they had gained entry, the police arrested the four occupants who were inside at the time. The Occupiers secured the building legally, and displayed notices of Section 6 of the Criminal Law Act 1977 on the exterior of the building, but the police paid no heed to the law and Occupy Lancaster are now seeking legal advice.
Also on 8th January undercover police arrested 3 occupiers at Occupy Liverpool on suspicion of possession; none were found to be in possession of "controlled substances". Twenty or so police then surrounded the occupied building stating that it was a crime scene and laid siege to it for 3 hours. Like Occupy Lancaster a Section 6 notice was displayed but the police acted as as if squatting was already illegal.
Later this month Occupy Sheffield will be hosting a national occupy conference in the squatted Citadel of Hope.
Newswire: Eviction - Press Release: 9/1/12 from Occupy Lancaster! | Legal help required | Police Harass Occupy Liverpool at Legal Squat | Police raid on Occupy Lancaster | Occupy Sheffield Statement on the occupation of the Citadel Of Hope | Salvation Army Citadel Occupied and renamed Citadel Of Hope
Links: Occupy Lancaster | Occupy Liverpool | Occupy Sheffield | Occupy LSX | Squatters' Action for Secure Homes
IMC Sheffield | 05-11-2011 22:07 | Occupy Everywhere | Sheffield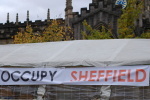 On 5th November a Occupy Sheffield camp was established outside Sheffield Cathedral (map). After discussing where to camp at a meeting on the steps of the City Hall it was agreed to set up camp at the Cathedral. Posters and flyers you can print, to spread the word, have been produced by the Sheffield Equality Group.
Following on from the start of Occupy Wall Street on 17th September 2011 there is now a global occupation movement and a growing number of occupations in the UK.
Occupy Sheffield has a web site, a StatusNet account, a Twitter account, a presence on Facebook, an email list and a wiki with a Wishlist for the camp.
Newswire: #OccupySheffield 15th October Solidarity Protest | Occupy Sheffield General Assembly 24th Oct | Occupy Sheffield Meeting Tonight | Sheffield Occupied! | Help needed at Occupy Sheffield! | Billy Bragg to sing at Occupy Sheffield | SmashEDO Tour comes to #OccupySheffield | Smash EDO Talk at Occupy Sheffield | Billy Bragg at Occupy Sheffield | Occupy Movement: where next? | Occupy Anthems - Gamblin's for Fools | The 1%'s New Battle: Selling War on Iran | Sheffield University occupied | EveryBody Out | Sheffield Occupation Official Statement | Occupy Planet Earth: Resisting the Militarisation of State Power | Sheffield University Occupation: Official Statement on the Court Injunction
UK Occupations: Bath | Birmingham | Bournemouth | Bradford | Brighton | Bristol | Cardiff | Edinburgh | Glasgow | Leeds | London Finsbury Square | London Stock Exchange | Newcastle | Norwich | Nottingham

Sheffield Feature Archive >>