up to a thousand people took part this evening in a rally and march and film re-enactment. after gathering at trafalgar square, several hundred people marched down whitehall, many wearing iconic 'anon' masks, and gathered at the gates of parliament, taking over the road and closing it to traffic for several hours this evening. as numbers dwindled towards midnight, it seemed unlikely that westminster would erupt in flames shortly after midnight as it did in the film 'v for vendetta'.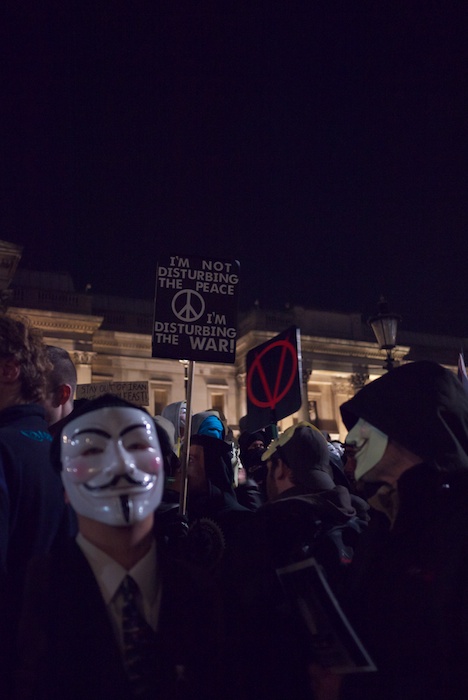 disturbing peace banner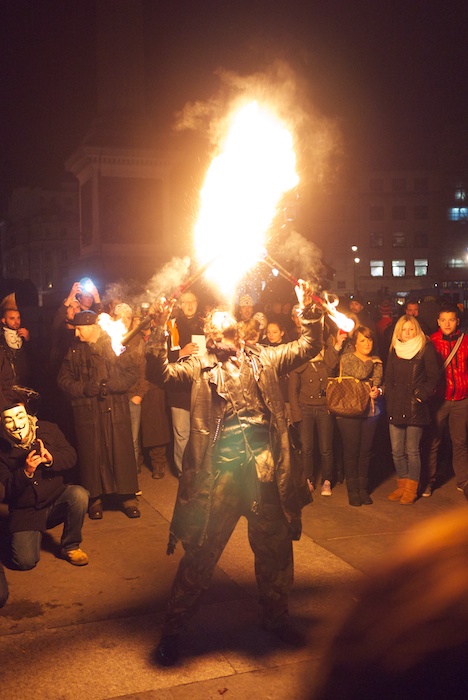 fire play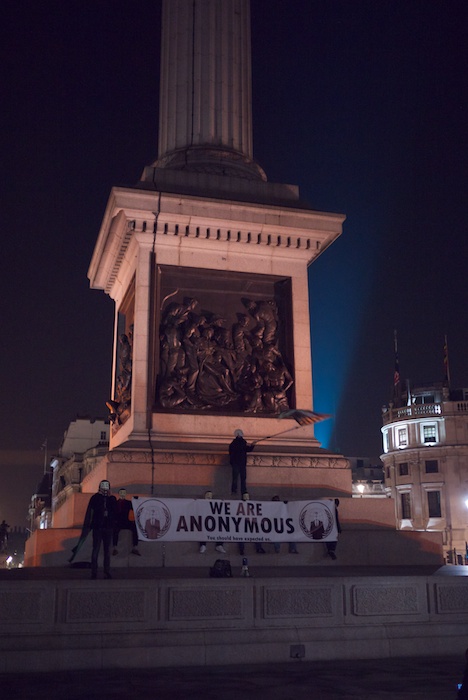 nelson's column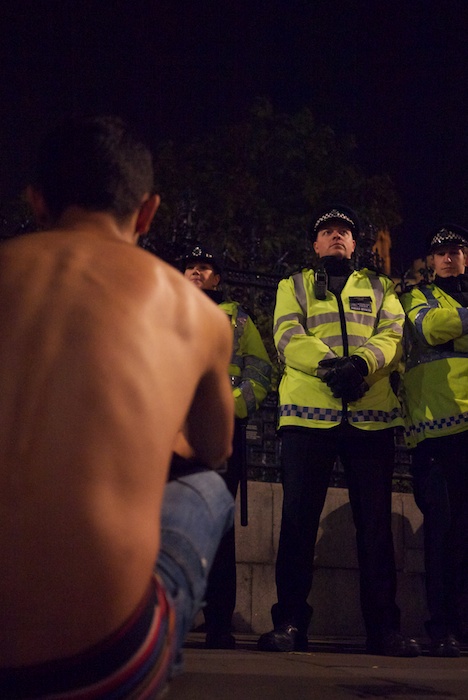 never mind the cold
at 6pm, the steps of trafalgar square were full of masked anons, and numbers built up to spill into the square. police and "heritage wardens" watched as various square bye-laws were transgressed, with some commercial photography, lots of banners and protest, some singing, music and games, and even some fire-eating and juggling (all things prohibited by the bizarrely draconian rules covering this "private" public space).
at around 7.30, anons climbed the ledges around the base of nelson's column, and this then became the focus for the crowd, which at its peak might have numbered close to a thousand.
around 8pm, the group set off towards parliament, taking over whitehall to the familiar chants of "whose streets, our streets". along the way, they paused to allow a giant 'anonymous' banner and some disabled people to lead the protest into the square.
police formed a line, forcing people to pass around them. their idea seemed to be to prevent traffic disruption to certain routes, but it looked as though they had accepted that the main road in front of parliament would be closed and traffic was obviously being managed to facilitate this.
there was also a line of police along the fences and gates of parliament, and the crowd surged right up to them, with some people attempting to attach the anon banners to the fences.
there were some scuffles over by the abbey between masked protestors and a FIT team. this led to a sit-down at that corner, which resulted in traffic being turned back along the embankment and then managed again to avoid the square.
as two politicians were accompanied out of parliament, police surged forward to clear the pavement in front of parliament and there were some minor confrontations during that process.
there was also some scuffling and, i think, one arrest, when a small group of people tried to scale the fences.
otherwise, the proceedings remained cheerful, peaceful, and reasonably unhindered. however, my feeling was that the protest was being "facilitated" or tolerated, but the police had huge re-inforcements nearby, two helicopters above, and manifestly visible and audible attack dogs within the grounds of westminster, so were in complete control at all times.
numbers started to dwindle after 9pm, and it's been reported that legal observers left around 11pm as less than a hundred people remained outside parliament.