In this wide ranging talk about the global food crisis and peak oil Nafeez Ahmed sketches out a path to the post-industrial society.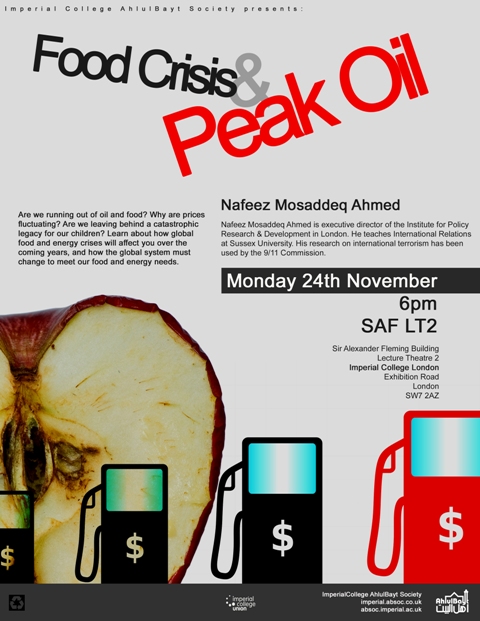 Food Crisis and Peak Oil
Are we running out of oil and food? Why are prices fluctuating? Are we leaving behind a catastrophic legacy for our children? Learn about how global food and energy crises will affect you over the coming years, and how the global system must change to meet our food and energy needs.
Nafeez Mossadeq Ahmed is executive director of the Institute for Policy Research & Development in London. He teaches International Relations at Sussex University. His research on international terrorism was officially used by the 9/11 Commission in Washington DC, and on 22 July, 2005 he gave expert testimony in US Congress on the failure of Western security policies at the hearing, "9/11 Commission Report One Year Later: Did They Get it Right?"

http://en.wikipedia.org/wiki/The_War_on_Freedom
In the lecture he points out that 1 billion people are currently hungry -- one 1/6 of the worlds population. He asks who controls food and provides figures for some key parts of the global food production process -- 6 companies control 85% trade in grain, 3 control 85% of the banana trade, 4 control 84% of US grain production, etc. The green revolution, soil erosion, climate change, global warming, drought are all covered.
Peak oil, the Olduvai theory (

http://dieoff.org/page224.htm
) and the imminent acute global energy crisis are described. He points out that there is currently the capacity to feed the whole of the planets population -- the current problem is one of distribution.
He talks about alternative and renewable energy, the financial system and how we might use what we have to plant a seed to create a better, post-industrial society.
Last year Nafeez Ahmed spoke at another meeting organised by the AhlulBayt Islamic Society at Imperial College London (

http://imperial.absoc.co.uk/
) on The Hidden Holocaust - Our Civilizational Crisis:

http://www.indymedia.org.uk/en/2008/01/388961.html
Other talks by Nafeez Ahmed on UK Indymedia include:
* Ties With Terror: Western-Al-Qaeda Relations in the Post-Cold War Period

http://www.indymedia.org.uk/en/2007/04/368971.html
* International Terrorism: The Secret History

http://www.indymedia.org.uk/en/2006/11/356939.html
* Creating Terror

http://www.indymedia.org.uk/en/2007/07/376665.html
Further reading:
The Institute for Policy Reseach & Development of which Nafeez is Executive Director:

http://www.iprd.org.uk/

http://www.nafeez.blogspot.com/