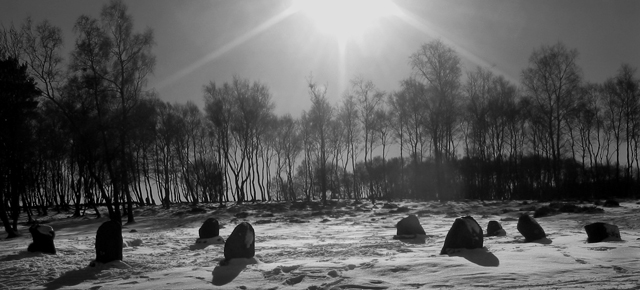 Nine Ladies Stone Circle
Monday 19th Jan, Papers were served, and they are in court for posession order on 23rd of Thursday. People urgently needed to sort out defences, and to be there if eviction follows shortly after. Climbers have and are being approached.
New site number - 07005942212 The official nine ladies website has not been updated since August 2003, so use the number above for up to date info.
About the campaign
Nine Ladies Under Threat
On 12 December 2003, the quarry company Stancliffe Stone submitted a scheme to the Peak District National Park Authority, PDNPA, for working the quarries at Endcliffe and Lees Cross. They want to extract 3.2 million tons of rock from a 12.95 hectare site within 100m of the Nine Ladies Stone Circle.
The resultant scar will be 100m deep, devastating the environment of this treasured site for ever. The quarry company have issued a statement in the local paper saying that they are going to begin the eviction process.
People who want to help are encouraged to write to the PDNPA and tell them why you are opposed to this development. (Note: public consultation is for the duration of January only):
The Peak District National Park Authority,
Aldern House, Baslow Road, BAKEWELL,
Derbyshire DE45 1AE
Tel: 01629 816200
Fax: 01629 816310
Email: aldern@peakdistrict-npa.gov.uk
If you want to be on the phone tree (to be informed when eviction starts), please get in touch via the site mobile number: 0700 5942212
History of the camp
This camp was set up in 1999 to help stop the destruction of Stanton Moor hillside in the Peak District National Park, which is under threat from the re-opening of two dormat quarries. The quarries would have a disastrous impact on the Nine Ladies Stone Circle and local wildlife. Camp residents though have vowed to stay until the quarry plans are shelved.
Info
http://www.nineladies.uklinux.net/
Postal address:
Nine Ladies Anti-Quarry Campaign,
Lees Road,
Stanton Lees,
Near Matlock,
Derbyshire DE4 2LQ.
Tel: 0700 5942212
Further Resources
To find out about it's archelogical significance, and it use by local people for centuries check out:
Previous articles on Indymedia: