Conservative Party member Stephen Green of Christian Voice (and Cameronesque opponent of multiculturalism) has openly come out online in support of the violent fascist EDL, posting offensive remarks via their official Facebook designed to inflame the EDL's racist reactionaries paranoia to boiling point, as Christian extremists join extremist Jewish renegades in voicing their approval of the far right group's ugly Mosleyite street demonstrations.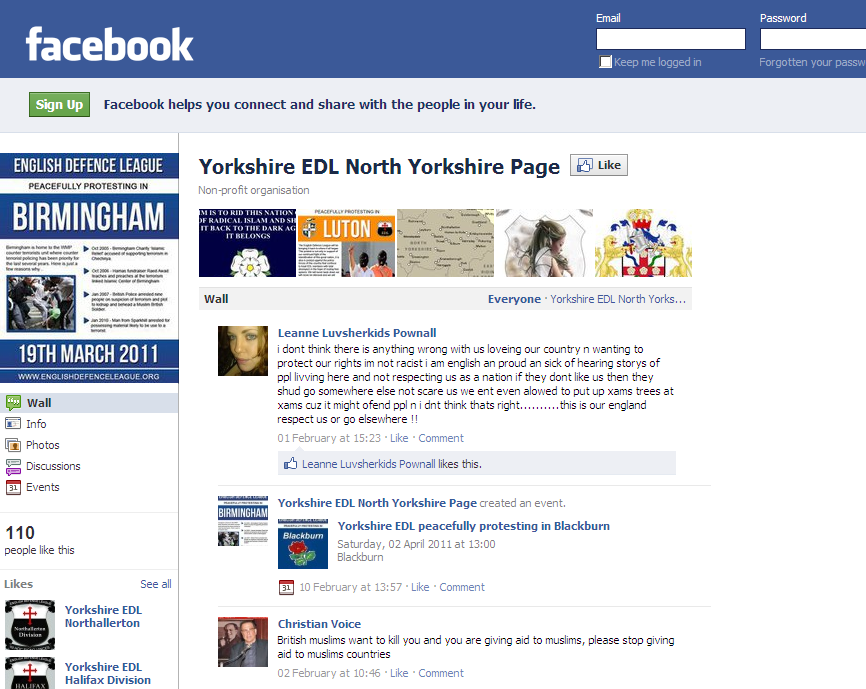 On the "Yorkshire EDL North Yorkshire Facebook Page", at 02 February at 10:46, Christian extremist Stephen Green posts the following remark, (see screenshot):
Christian Voice - "British muslims want to kill you and you are giving aid to muslims, please stop giving aid to muslims countries".
Having flirted with the BNP in previous years, the bigoted evangelical crusaders of Christian Voice are now, via Facebook, throwing their full weight behind the EDL's boot and fist pogroms as they march up and down the country (openly supporting the neo-Nazi BNP in Barnsley).
Forget "love thy neighbour" and the parable of the "Good Samitan", Christian Voice want to see Muslim children dying in African famines, Asian floods, and other disasters, in their call for British people to stop giving any foreign aid to Muslims. No doubt, Green would "pray for their souls" after the "Islamic heathens" perish.
Unlike all mainstream Christian churches who vigoursly oppose the EDL and the BNP, and in Birmingham, London and Preston have joined up with Muslims to hold peace vigils, do not forget, not all Christians are interested in peace, equality and justice. For every Desmond Tutu comes a reactionary bigot who believes just like Al Qaida that non-believers will rot in the eternal fires of hell.
A few years ago, many fringe Christian extremist nutters were vehemently anti-Semitic, but now, as Muslims are the new target for neo-Nazi hatred, while secretly maintaining their hate of Jewish people for Easter to blame an entire people for Jesus's execution by the Roman occupiers, they now openly scategoat another non-anglo-Saxan people orginating from the Middle East.
So sick Mr Green wants the drunken fascist thugs of the EDL to boost their persecution complex, and believe that every British Muslim wants to kill them. Even fellow extremists Muslims4UK didn't go that far, but obviously Christian Voice has so few supporters these days in our secular society, he hopes to seduce the vulnerable coked-up minds of the EDL's football hooligans into turning their racist street jaunts into a good old-fashioned religious crusade, the likes of which shadowy figures on the extreme rightwing side of Christianity, would have wet dreams imaging a cataclysmic Holy war happening in modern times.
Whether or not you believe in god or a higher entity, Jesus, if he did exist, must be cringing in agony as he watches his name being contorted for hate by objectionable organisations such as Christian Voice.
Thanks to the Facebook and Twitter revolution, establishment conservative figures (albeit irrevelent ones) such as Green are liable to slip up and post uncensored bile after a few shandies while buzzing in a pseudo-religious fervour, sometimes forgetting to delete the evidence until screenshots have been taken (see above!).
Would-be Jewish EDL supporters unsure of the motives of the EDL having witnessed Israeli flags at their rallies should treat them with extreme caution, realising there are anterior motives aplenty in the courting of the US Pro-Israeli campaign lobby, especially as some hardline American Christian evangelical sects only supporting Israel for one stated reason (surf the net for more info, it's no rocket science).
Some such evangelical extremists have openly gone on record proclaiming that they support Israel hoping American Jews will repatriate there, in time for a deadly cataclysm linked to Jesus's Biblical second-coming. In other words, pro-Israeli American Christians, like neo-Nazis or the KKK, want to see dead Jews, only later down the line after "God carries out his venegance upon Jesus's killers", and sadly, so deseprate are some rightwing groups such as the Jewish Defence League for recognition, some have swallowed the Christian evangelical bait hook, line and sinker.
It is a cruel irony that the EDL claim to oppose religious extremism, but as drawstrings grow tight, and Alan Lake draws tired of the EDL's pointless drunken antics, the question must be asked - are wealthy redneck neo-Conservative evangelicals waiting in the wings as the next shady source of international funding for this ragbag gang of racist hooligans???