One of Northern Rail's train management team - LNE Line Controller Gareth Jones, an avid anti-European and #brexit fan, posted an absolutely vile tweet calling for all immigrants to be shot. It is sickening to think such a sick mind is in control of the day-to-day running of local railway lines. Northern Rail's trains are used by people of all cultures and backgrounds including asylum seekers, oblivious to the knowledge their trains are being scheduled by honourable, caring, people, not monsters who fantasise about going to Calais and murdering refugees ("shooting them like seagulls").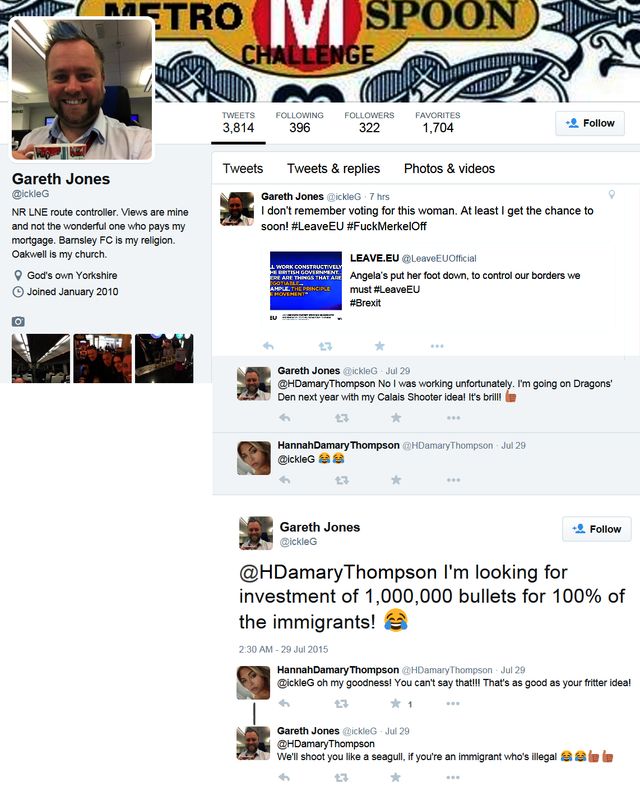 Gareth Jones, Genocidal Fantasies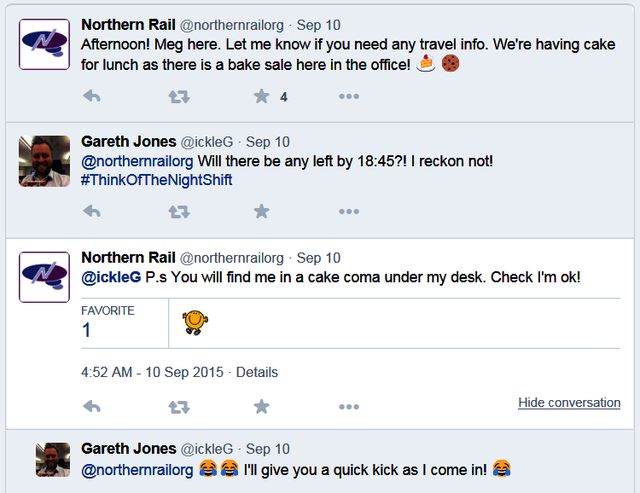 Gareth Jones Colleagle of Northern Rail Official Twitter Admin

https://twitter.com/ickleG/status/626321313062330368
There is a well known saying (true or otherwise) that fascists make the trains run on-time, based upon Mussolini. One thing is for sure, trains were scheduled to transport minorities to death camps, very much in keeping with Northern Rail employee Gareth Jones's horrific fantasies. Throughout Italy, France, Germany, Spain and throughout Northern Europe, trains were scheduled by line controllers to transport Jews, Roma, Serbs, gay people and other minorities to death camps.
Northern Rail should take strong action against Mr Jones for bring their company into disrepute. His Twitter account, refers to his job and employers. Unless the rail company condones racist violence, they must act now to dismiss him from his post.
Worryingly, the @northernrailorg Twitter account seems to be operated from the same office as Gareth Jones works in, and he is on first name terms with the people behind this account. It is hard to believe that his work colleagues will take an expose of their friend and colleague seriously. There needs to be an independent investigation by his employer into this horrifying tweet. People have been fired from other employers for far less controversy than Gareth's longing for refugees to be killed.
Please everybody, share this screenshot far and wide.
NO PASARAN!