Alexandra Park: Tree felling resumes at protest site
Tree felling in Alexandra Park, Whalley Range Manchester City Council said it would not be deflected from its plans

http://www.bbc.co.uk/news/uk-england-manchester-21321490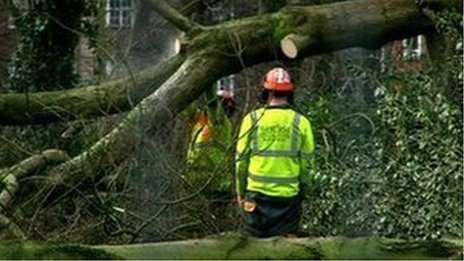 Tree felling has resumed at a Manchester park where activists climbed trees to prevent the clearance.
The felling was prevented last week when up to 70 people got into Alexandra Park, Whalley Range, on Thursday.
The protesters set up a camp and a number of them scaled trees in the park.
A Manchester City Council spokesman said it would not be deflected from its plans and legal action may be taken against the tree climbers.
Protestor Ian Brewer confirmed some demonstrators were still up trees but added: "There are not enough people at the camp, it is very disappointing.
"We've had good support with our petition but we need more people at the camp."
The council intends to fell 280 trees as part of a £5.5m project to return the park to the way it is supposed to have looked in Victorian times.
Raised flowerbeds
The authority said only 10% of the park's trees were being felled and local people have said they do not feel safe in the park.
But protesters claim the the actual number of trees to be cut down is more than 400.
The trees are being removed and replaced by raised flowerbeds as part of the regeneration of the park.
The plans also include creating new tennis courts and football facilities and improvements to the lake.
More than 2,000 people have signed an online petition opposing the felling of trees in the project, which received £2.2m from the Heritage Lottery Fund.
Eamonn O'Rourke, head of communities and culture for Manchester City Council, said: "The actions of a small, noisy band of protesters have been holding up much-needed improvements to the park which have widespread public support and indeed all the evidence from our ongoing conversations with local people suggest that the majority are behind the plans."
Council plans for park The council said people did not feel safe in the park
Tim Cooke, from Hulme, who is also protesting against the tree felling, said: "It's not improving the park - it is destroying the park by decimating a third of the trees.
"I would understand it if they were diseased but they are cutting down perfectly healthy trees."
Greater Manchester Police confirmed a woman was arrested on Friday on suspicion of aggravated trespass.
She was not charged but given a police caution.