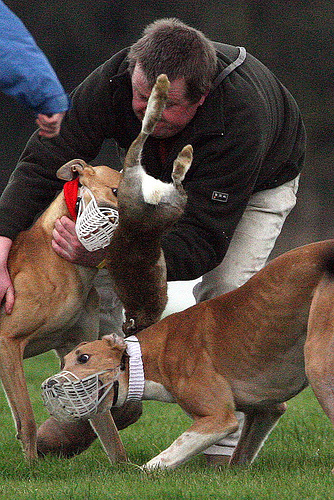 Dear Friends,
Please sign this petition (it takes only a few seconds) seeking support for the upcoming Bill to ban the horribly cruel practice of live hare coursing in Ireland.
Hare coursing is a so-called "sport" in which hares (jack rabbits to Americans) are set up as bait for greyhounds to chase and terrorize. Many hares are killed or horribly injured each year as they are mauled or tossed about like rag dolls on the coursing fields. Some hares die within seconds of being struck by the fast moving dogs. Others die of agonizing internal injuries, such as bone breakages that cannot heal.
A member of Ireland's parliament, the Dail, will attempt in the coming months to have hare coursing banned.
We desperately need people to petition the government of Ireland, requesting its support for this Bill.
That's where this petition comes in. Each time a person signs it, an email immediately goes to the Taoiseach and Tanaiste (Prime Minister and Deputy Prime Minister of Ireland) requesting their support for the Bill.
Thanking you,
John Fitzgerald,
Campaign for the Abolition of Cruel Sports,
Callan, County Kilkenny, Ireland
Here's the petition:

http://www.change.org/petitions/petition-to-ban-horrific-hare-coursing-cruelty-in-ireland
Or at this alternative link:

https://www.change.org/petitions/taoiseach-prime-minister-of-ireland-support-a-bill-to-ban-the-cruel-practise-of-live-hare-coursing-in-ireland
Here is a brief film showing exactly what happens in hare coursing as practiced in Ireland:

http://www.youtube.com/watch?v=D58qbzC-GI4&feature=player_embedded
Footage of the "Irish Cup" hare coursing event; held on Limerick racecourse in the last weekend of February 2012:

http://www.youtube.com/playlist?list=PL741E0B6DA3CBB057