On Monday 13 February 2012, the occupation on Cathedral Square will be gone, but Occupy Sheffield will continue. The snow has been fun, but the threat of over £100,000 of High Court costs, and the Cathedral's answer to peaceful, public protest as eviction has made the decision easier.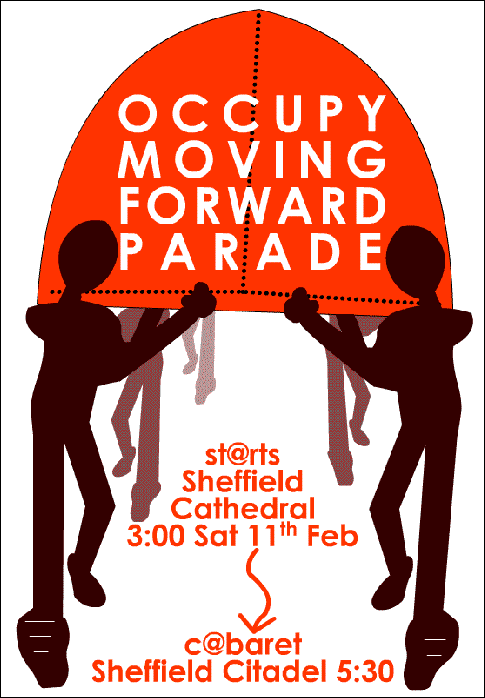 Occupy Sheffield Moving Forwards
Our stand against excessive greed and corruption of our democracy continues. Since November 5th, thousands of people have come to show their support for the camp in many ways. Thank you Sheffield. Occupy is a global movement, manifesting itself in the heart of this city with a occupied space that has been a mission for fairness, a sentry point for justice and an outpost for compassion. But we are more than the sum of our parts; more than tents and sleeping bags. We will continue this process with events, and build on discussions with peaceful direct action.
To mark the beginning of a new phase for Occupy Sheffield, people are invited to a Moving Forward Parade

https://occupysheffield.org/2012/02/09/moving-forwards-parade/
starting at the camp at 3pm this Saturday 11th February 2012, and finishing with a free Impromptu Cabaret/Poetry/Open Mic event at the Citadel of Hope on Cross Burgess Street (near the Peace Gardens, map

https://occupywiki.org.uk/wiki/Sheffield/Map
) at 5:30pm.
Occupy Sheffield will continue to have daily meetings. Public General Assemblies (GA's) are Mon/Wed/Fri at 6:30pm, 3pm on Saturdays and are open to all. Meetings will start from the Citadel of Hope on Monday, with plans for meetings back on the streets in the Spring. Follow @OccupySheffield and @Citadel_of_Hope for the latest."

https://twitter.com/OccupySheffield

https://twitter.com/Citadel_of_Hope