Get yourselves down here!
Daytime Venue: CADS (Creative Arts Development Space) Snow Lane Entrance, Shalesmoor, S3 7AL (5 mins from city centre, next to "Kit Locker"). See the image below for the latest timetable.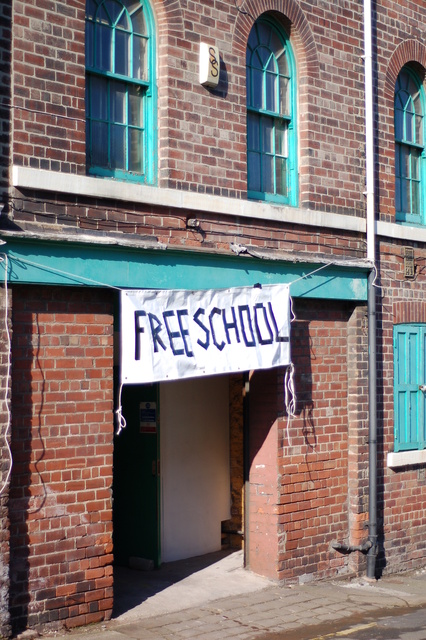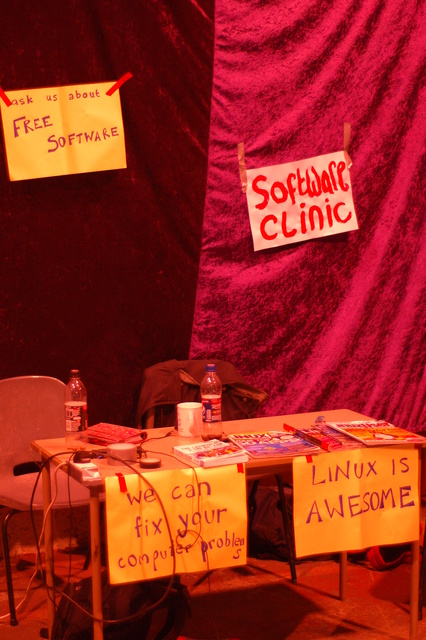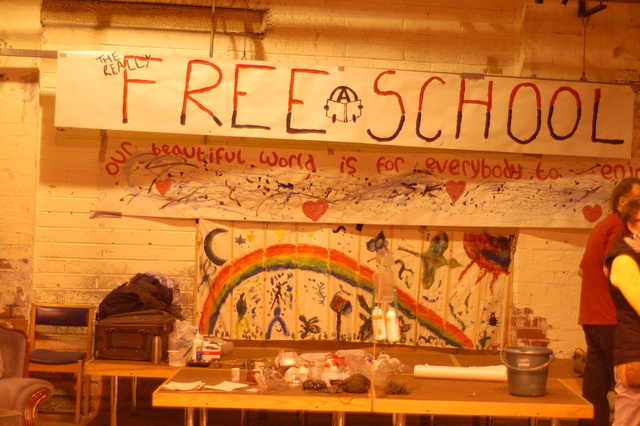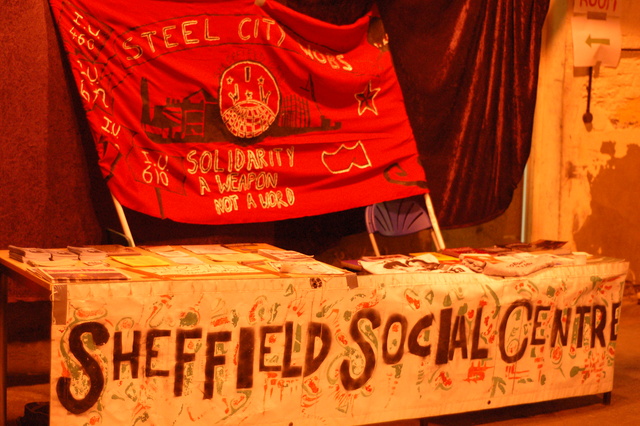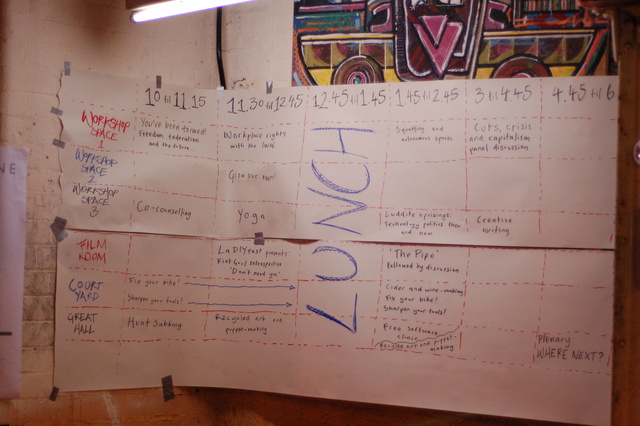 10.00-11.15
YOU'VE BEEN FARMED: SOCIAL MEDIA AND SECURE/NON-CORPORATE ONLINE COMMUNICATIONS
While we seem to end up living our lives more and more through little electronic boxes (like the one you're probably reading this on) multinational corporations are cataloguing pretty much all of the information we exchange. Come on in to this workshop to find out why this is a fairly bad thing, and how we can escape the clutches of the internet monopolisers.
CO-COUNSELLING
The political system we live under is designed to induce depression, disillusionment and despair in each and every one of us. That way we're easier to oppress and less likely to kick up a fuss when met with injustice. Co-counselling is an accessible tool used by many to combat the psychological ills doled out by capitalism – pop in to find out what it's all about.
HUNT SABBING
Bloodsport is alive and well in the countryside around Sheffield, so every week or so a dedicated bunch of hunt saboteurs journey out to put themselves in the way of the hunters intent on killing innocent animals. Come along to hear their stories and to find out how you can get stuck in.
——————————————————————————————————–
11.30-12.45
WORKPLACE RIGHTS
In these days of cuts, greed and privatisation we need to be wary of those whose desire to make money means they are willing to screw us over in the chase for every last penny. A representative of Industrial Workers of the World (or the IWW, a worldwide industrial union that represents all kinds of workers) will be along to help you know your rights and how to hold onto them.
LaDIYFEST PRESENTS: RIOT GRRL RETROSPECTIVE FILM 'DON'T NEED YOU'
An interactive timeline of women's history with the LaDIYfest crew, including a chance to get creative and contribute to the Riot Grrl zine.
YOGA
Some relaxing postures to allow your mind to drift away from the madness of the world we live in.
GROW OUR OWN
We are by and large utterly disconnected from the food that sustains our lives until it reaches our tables. Local food-growing tutor Richard Clare will be on hand to fill you in on the whys, wherefores and wonders of seeing your food from soil to plate.
ANARCHA-FEMINISM
A discussion on the crossovers between anarchist and feminist ways of thinking, and why it's a fusion of ideas that needs to be spread.
ALSO DURING THE MORNING: Recycled art and recycled puppet-making for all, tool-sharpening, bike-fixing.
——————————————————————————————————–
12.45-1.45
MIDDAY MEAL BREAK
Have a munch on some wonderful food served up by the frightfully righteous and notoriously culinary Sheffield Animal Friends.
——————————————————————————————————–
1.45-2.45
FILM: THE PIPE
Rossport on the west coast of Ireland has for the last decade or so been the site of continuous resistance to Shell's ecocidal plans to build an enormous gas pipeline through the pristine and beautiful coastline. This documentary depicts the struggle of those who have fought those plans, and will be followed by a discussion facilitated by Sheffielders who've been part of it.
LUDDITE UPRISINGS: TECHNOLOGY POLITICS THEN AND NOW
In 1811-12 Artisan cloth workers (Luddites) in the Midlands and the North rose up against factory owners who were imposing new machines and putting them out of work. The Luddites only broke machines that were 'hurtful to commonality'. What can the Luddites teach us about how to successfully resist anti-democratic technology practices, such as GM crops, today?
SQUATTING AND AUTONOMOUS SPACES
Find out how groups in Sheffield are actively challenging the absurd abundance of empty buildings by reclaiming and redefining so-called private property. Squatting makes use of unused buildings to meet real needs such as for a home or a social space. Come along and discuss why it's necessary and how you can you get involved.
FREE SOFTWARE CLINIC
Most people find themselves unnecessarily reliant on expensive software to run their computers, unaware that free, collaboratively designed programs are easily available and also much nicer to use. Find out how to get in on it!
CIDER AND WINE-MAKING
Why waste money on expensive chemically drinks when you can make it yourself using ingredients picked nearby? The lovely folk from Abundance will be in attendance to show you the ropes.
——————————————————————————————————–
3.00-4.45
DISCUSSION: CUTS, CRISIS, CAPITALISM
Join guest speakers from UK Uncut, the Anarchist Federation, and Sheffield Save our Surestart, to chat about the current state of capitalism, and how to respond to its latest crisis and the cuts being imposed on us.
CREATIVE WRITING
Get your pen (or pencil) flowing to see how we can break down the distinction between art and political action.
ALSO DURING THE AFTERNOON:
Recycled art and puppet-making for all, anarcha-feminism stall, tool-sharpening, bike-fixing and other stalls.
——————————————————————————————————–
4.45-6.00
PLENARY
As part of the ongoing project to set up a permanent social centre in Sheffield, and to round off a packed day, we'll come together to discuss what we can learn from the history of autonomous social centres both here and abroad, as well as hearing about what other groups such as LaDIYfest and the TAA collective are organising in the near future. Ultimately, we'll seek to galvanise our collective enthusiasm for creating spaces like this one and talk about how we can make a permanent version a reality.
——————————————————————————————————–
6.00-8.00
FOOD
More delicious grub to finish off the day.
__
8.00-late AFTER-PARTY BENEFIT GIG
Red House, 168 Solly St. S1 4BB (just round the corner)
Line-up:
Toein' In The Dark
Christine Moon
Mental Block
DJs
Suggested donation £4 (£3 conc)
WHAT'S THIS ALL ABOUT?
You might have noticed that our everyday lives involve being bombarded from all angles by people whose primary desire in life is to make money. This can have one or two downsides: the creation of a culture in which happiness and well-being are measured in pounds and pence, the systematic sacrifice of planet earth in the name of business, and the life of a person coming to be quantified in terms of their financial worth instead of their intrinsic value as a thinking, breathing human being.
On 15th October 2011, people in Sheffield will be coming together to resist the tide of consumer capitalism, exploitation and crisis, creating a space for the free sharing of skills, ideas and knowledge. Come along to the Sheffield free school – maybe even to share a skill of your own.
The free school is being organised by members of the Sheffield Social Centre project, which aims to establish a permanent space for non-hierarchical, anti-capitalist and non-discriminatory activity in Sheffield.