UPDATE: Audio recordings of 3 workshops and the plenary are available.
All welcome to this year's Sheffield Free School event, on Saturday 15th October 2011, from 10am till 8pm, at CADS (Creative Arts Development Space) Snow Lane Entrance, Shalesmoor, S3 7AL (5 mins from city centre, next to "Kit Locker").
This is a Free School NOT of the type created under the present government, but in the long tradition of autonomous self-organised activities. It's being run by the Sheffield Social Centre project, which aims to establish a permanent space for non-hierarchical, anti-capitalist and non-discriminatory activity in Sheffield.
People in Sheffield are coming together to resist the tide of consumer capitalism, exploitation and crisis, creating a space for the free sharing of skills, ideas and knowledge. Come along to the Sheffield Free School ? maybe even to share a skill of your own.
The day's line up includes a whole list of workshops, practical activities, food, film, stalls, fun and friendly stuff.
Following that, everyone's welcome to the evening benefit gig (£4, £3 concessions) at the nearby Redhouse Pub, 168 Solly Street S1 4BB.
Full details of the day, including flyers to download and pre-event preparation meetings, can be found on the Sheffield Social Centre website and on the Free School event Facebook page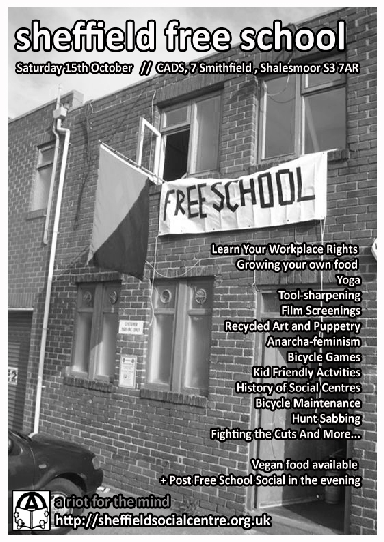 Sheffield Free School 2011