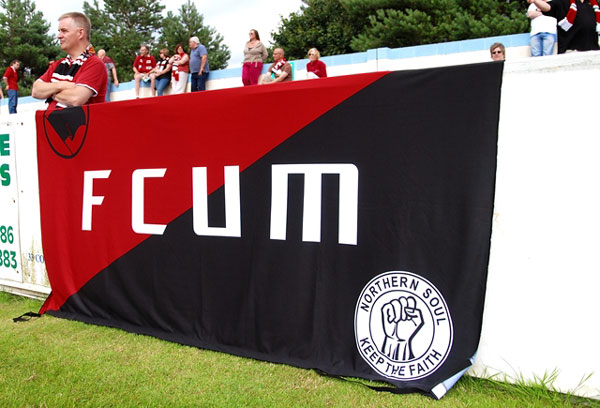 » The first corporate sponsors of FC United of Manchester, everyone's favourite punk football team, may have given much need cash to the club but they won't be getting the company's name on the players shirts. "What we are against is putting commercial interests before those of the club." said Andy Walsh, the club's general manager. FCUM, seen as a flagship club for many in grassroots football, have also launched their 'punk finance' concept – funding the club without the input of big banks.
» Once again football is finding its political heart with a premier league team coming out in support of local sacked workers. Derby County players in the opening game of the season against Birmingham City, wore shirts emblazoned with the slogan 'Save Our Rail Industry – Derby United' in solidarity with the workers at Bombardier, the rail manufacturers who are cutting 1,400 jobs from its Derby factory after the government gave a £1.4bn contract to build rolling stock for the new Thameslink to German company Siemens. There was also a protest inside the Pride Park ground as workers and their families paraded around the pitch with banners and placards to a standing ovation from the terraces. Derby went on to beat Birmingham 2-1.
» The government has been ordered to make public documents that reveal the discussions that the then Prime Minister Margaret Thatcher had about the 1989 Hillsborough stadium disaster, where 96 Liverpool fans were killed and for which the police were later found responsible. The Information Commissioner has now ruled that releasing the files would be in the public interest. The BBC made a freedom of information request more than two years ago concerning the documents and their content of meetings between Thatcher and her government ministers on the days immediately following the disaster where it is believed she applied pressure to ensure the police should not be blamed for their role in causing the deaths of the Liverpool fans.