"Knowing there's guys and girls like you on the outside supporting us makes such a difference...It's really nice not to be forgotten and I'll be eternally grateful to everyone." – Ravi Gill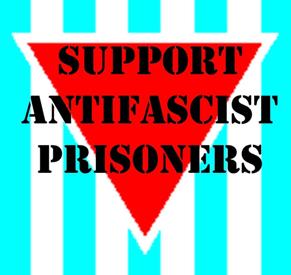 Six of the seven UK antifascists recently convicted of 'Conspiracy to Cause Violent Disorder' have now been sentenced. Andy Baker, Sean Cregan, Phil De Souza and Ravi Gill were sentenced to 21 months. Thomas Blak was sentenced to 18 months today, and Austen Jackson was sentenced to 15 months today. A seventh antifascist, Jonathan Wood, is yet to be sentenced and is currently on bail.
In the past week, both Sean Cregan and Phil De Souza have been transferred from Wormwood Scrubs, where all six prisoners were originally held, to Category 'C' prisons elsewhere. We expect more of the prisoners to be transferred soon, so please keep checking with Indymedia and the Leeds ABC website for the latest information.
As of today, the addresses for the six antifascist prisoners are as given below. Please write letters of support. You can send in stamps (Thomas is Danish so would appreciate European stamps) or Postal Orders made payable to 'The Governor' and with the prisoner's name and prison number written on the back. For advice on writing to prisoners please see the Leeds ABC website.
A solidarity fund has been set up to support the prisoners in jail and upon release. If you would like to contribute to it please send a cheque (made payable to 'The Cable Street Society') to Leeds ABC, 145-149 Cardigan Road, Leeds, LS6 1LJ. Details for bank transfers are:
The Cable Street Society
Sort Code 070093
Account number 33333334
Ref 0827/704169523
We would like to thank the groups and individuals who have already contributed to the solidarity fund, including Kate Sharpley Library, Bristol ABC, Rebel Soul (Shambala Festival), as well as the Anarchist workers co-op Sabcat, who have produced two benefit T-shirts (see www.sabcat.com).
In view of the forthcoming trial of other comrades please refrain from discussing the details of the case on this thread.
Prison addresses:
Andy Baker
A5768CE
HMP Wormwood Scrubs
PO Box 757
Du Cane Rd
London
W12 OAE
Thomas Blak
A5728CE
HMP Wormwood Scrubs
PO Box 757
Du Cane Rd
London
W12 OAE
Sean Cregan
A5769CE
HMP Coldingley
Shaftesbury Road
Bisley
Surrey
GU24 9EX
Phil De Souza
A5766CE
HMP Elmley
Eastchurch
Sheerness
Kent
ME12 4AY
Ravinder Gill
A5770CE
HMP Wormwood Scrubs
PO Box 757
Du Cane Rd
London
W12 OAE
Austen Jackson
A5729CE
HMP Wormwood Scrubs
PO Box 757
Du Cane Rd
London
W12 OAE