In the past Sheffield Indymedia has hosted its own fringe documentary film festival alongside the international annual event hosted at the Showroom Cinema, this year Access Space are hosting Open Splice: an afternoon of short open source documentaries on Friday 10th. Although we don't have the time and energy for our own screenings this this year the main event has a number of great looking films of interest to activists, including the première of the new British Film about climate change related direct action, Just Do It and the UK première of If a Tree Falls about the Earth Liberation Front.
Links: Sheffield Doc/Fest | Just Do It | If a Tree Falls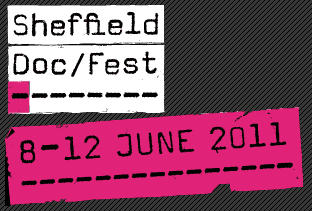 Sheffield Doc/Fest 2011
Other great sounding films include:
Check out the full listing of Protest films at the Sheffield doc/fest this week.
Discussions
Discussions at the festival include a BBC interview with Adam Curtis about his latest documentary, All Watched Over by Machines of Loving Grace on Friday at 2:15pm in the Lyceum Theatre. On Saturday at 9:30am in The Crucible Studio there is a discussion on The Revolution Will Be Tweeted, introduced by Wael Omar of Middle West Films, Egypt and followed by a series of presentations from a range of individuals and groups, including some of the most prolific tweeters, documentary makers and hackers from the recent uprisings in North Africa and the Middle East.
The Sheffield Doc/Fest runs from Wednesday 8th June to Sunday 12th June 2011.