Attached is a recording of a meeting at the Sheffield Anarchist Book Fair held on 21st May 2011 at which the editors of 3 books discussed their publications:
All three books are edited collections of contemporary anarchist theory, with contributors from around the globe offering some unique and original perspectives on anarchism.
Anarchist Studies Network Book Launch - mp3 46M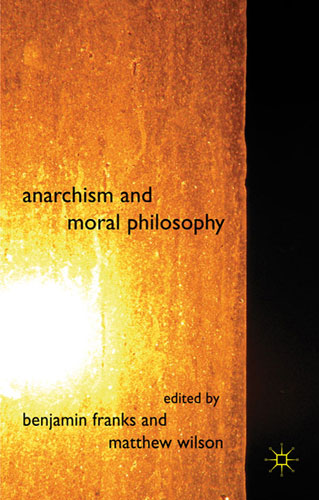 Anarchism and Moral Philosophy - Edited by Benjamin Franks and Matthew Wilson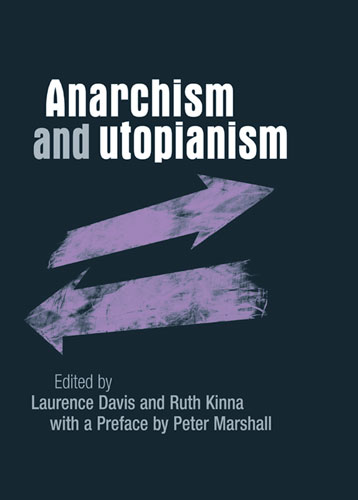 Anarchism and Utopianism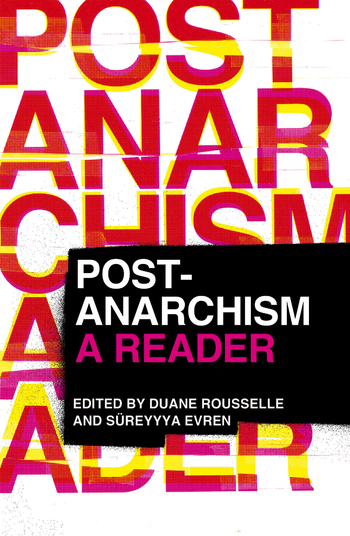 Post-Anarchism - A Reader
The three books are:
Anarchism and Moral Philosophy Edited by Benjamin Franks and Matthew Wilson
Palgrave Macmillan, January 2011
ISBN: 978-0-230-58066-4, ISBN10: 0-230-58066-1,
This collection explores the nature and role of ethics within anarchist thought and practice, examining normative, meta-ethical and applied ethical issues through some of the theoretical insights of anarchism. It comprises contributions from international scholars working within the fields of philosophy and political theory.
By Benjamin Franks and Matthew Wilson
BENJAMIN FRANKS is the Lecturer in Social and Political Philosophy at the University of Glasgow, UK, based at their Dumfries campus. He is the author of Rebel Alliances: The means and ends of contemporary British anarchisms, and his work on anarchisms and postanarchisms have appeared in Anarchist Studies, Capital and Class and the Journal of Political Ideologies.
MATTHEW WILSON is a Postgraduate Researcher at Loughborough University, UK, exploring the problems of freedom, diversity and conflict in anarchist thought and practice. He is also involved in various forms of political activism; in particular, with the anarchist cycling collective, Bicycology.
Table of Contents:
Notes on Contributors
Introduction: Anarchism and Moral Philosophy; B.Franks
PART I: PHILOSOPHICAL ANARCHISM
In Defence of Philosophical Anarchism; P.McLaughlin
Kicking Against the Pricks: Anarchist Perfectionism and the Conditions of Independence; S.Clark
Anarchist Philosophy: Past, Problems, and Prospects; N.Jun
PART II: ANARCHISM, PROPERTY AND AUTONOMY
Autonomy, Taxation and Ownership: An Anarchist Critique of Kant's Theory of Property; K.DeClark
The Ethical Foundations of Proudhon's Republican Anarchism; A.Prichard
Freedom Pressed: Anarchism, Liberty and Conflict; M.Wilson
PART III: ALTERNATIVE ANARCHIST ETHICS
Anarchism and the Virtues; B.Franks
Green Anarchy: Deep Ecology and Primitivism; E.Aaltola
Listening, Caring, Becoming: Anarchism as an Ethics of Direct Relationships J.Heckert
A Well-Being Out of Nihilism: On the Affinities Between Nietzsche and Anarchist Thought; J.Irwin
Are Postanarchists Right to Call Classical Anarchisms 'humanist'?; T.Swann
Index

http://us.macmillan.com/anarchismandmoralphilosophy
Anarchism and Utopianism Edited by Laurence Davis and Ruth Kinna
Manchester University Press, March 2010
ISBN: 978-0-7190-7934-4, ISBN10: 0-7190-7934-9,
This collection of original essays examines the relationship between anarchism and utopianism, exploring the intersections and overlaps between these two fields of study and providing novel perspectives for the analysis of both. The book opens with an historical and philosophical survey of the subject matter and goes on to examine antecedents of the anarchist literary utopia; anti-capitalism and the anarchist utopian literary imagination; free love as an expression of anarchist politics and utopian desire; and revolutionary practice. Contributors explore the creative interchange of anarchism and utopianism in both theory and modern political practice; debunk some widely-held myths about the inherent utopianism of anarchy; uncover the anarchistic influences active in the history of utopian thought; and provide fresh perspectives on contemporary academic and activist debates about ecology, alternatives to capitalism, revolutionary theory and practice, and the politics of art, gender and sexuality.
By Laurence Davis and Ruth Kinna
Laurence Davis is Lecturer in Politics at the National University of Ireland, Maynooth. Ruth Kinna is Senior Lecturer in Politics at Loughborough University.
Table of Contents:
Anarchism and the dialectic of utopia -- John P. Clark
* Daoism as utopian or accommodationist: radical Daoism reexamined in light of the Guodian Manuscripts -- John A. Rapp * Diderot's *Supplément au voyage de Bougainville*: steps towards an anarchist utopia -- Peter G. Stillman * Everyone an artist: art, labour, anarchy, and utopia -- Laurence Davis * Anarchist powers: B. Traven, Pierre Clastres, and the question of utopia -- Nicholas Spencer * Utopia, anarchism and the political implications of emotions -- Gisela Heffes * Anarchy in the archives: notes from the ruins of Sydney and Melbourne-- Brian Greenspan * Speaking desire: anarchism and free love as utopian performance in fin de siècle Britain -- Judy Greenway * Visions of the future: reproduction, revolution and regeneration in American anarchist utopian fiction -- Brigitte Koenig * Intimate fellows: utopia and chaos in the early post-Stonewall gay liberation manifestos --Dominic Ording * Anarchism, utopianism and the politics of emancipation -- Saul Newman * Anarchism and the politics of utopia -- Ruth Kinna * 'The space now possible': anarchist education as utopian hope -- Judith Suissa * Utopia in contemporary anarchism -- Uri Gordon * Index

http://us.macmillan.com/anarchismandutopianism
Postanarchism: A Reader Edited by Duane Rouselle and Sureyyya Evren
ISBN: 9780745330860
Extent: 288pp
Release Date: 04 Feb 2011
Format: Paperback
Post-anarchism has been of considerable importance in the discussions of radical intellectuals across the globe in the last decade. In its most popular form, it demonstrates a desire to blend the most promising aspects of traditional anarchist theory with developments in post-structuralist and post-modernist thought. Post-Anarchism: A Reader includes the most comprehensive collection of essays about this emergent body of thought, making it an essential and accessible resource for academics, intellectuals, activists and anarchists interested in radical philosophy.
Many of the chapters have been formative to the development of a distinctly 'post-anarchist' approach to politics, aesthetics, and philosophy. Others respond to the so-called 'post-anarchist turn' with caution and scepticism. The book also includes original contributions from several of today's 'post-anarchists', inviting further debate and new ways of conceiving post-anarchism across a number of disciplines.
About The Author
Duane Rousselle is the founder and editor of the journal Anarchist Developments in Cultural Studies and a librarian for 'The Anarchist Library' project. He has published in the International Journal of Zizek Studies.
Süreyyya Evren writes on contemporary art, literature and radical politics. He has published several books in Turkish and several articles in English, German, French and Czech. He is the editor-in-chief and founder of the post-anarchist magazine Siyahi.