The 2011 Sheffield Temporary Autonomous Arts event has now started and is on from now till Sunday 22nd May.
Sheffield TAA 2011
Unit 3
Bowdon Street
S1 4JP
Come along and get involved!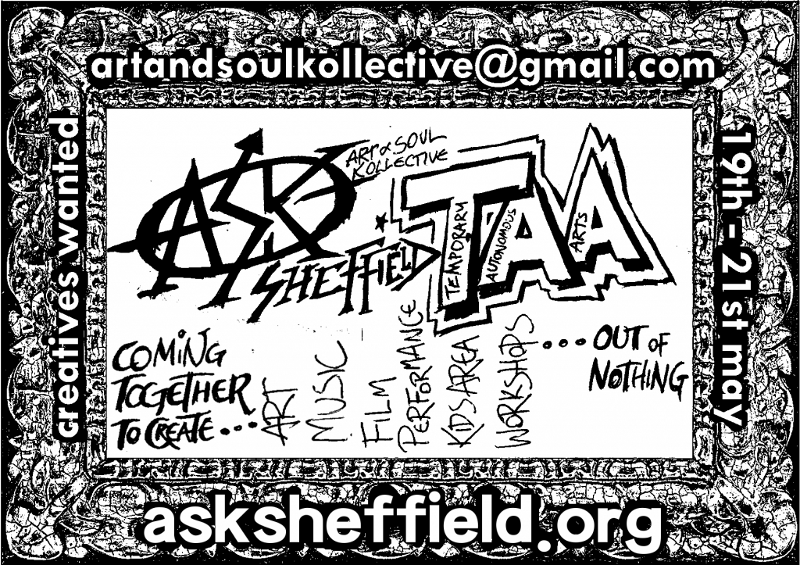 Sheffield Temporary Autonomous Arts
Last years event:

http://sheffield.indymedia.org.uk/2010/05/451200.html
This years event programme:

http://www.asksheffield.org/doku/doku.php?id=event_programme_-_taa_sheffield_2011
Wednesday 18th May
Open for artists to come help create the space. Hands on affair!! We will be setting up and helping one another to build up the exhibition. If you have any questions then get in touch -

artandsoulkollective@gmail.com
Thursday 19th May
We will be running playskools and workshops for an evening of skill sharing…
Get physical with basic acro balance and hoopdance…
How can we use patterns that occur in nature to maximise effect and minimise work? Learn the basics at our Permaculture theory workshop.
Temporary Autonomous Puppets - - create and perform using an assortment of recycled/salvaged materials.
Open Mic relax and relate to Sheffield's finest performers
SABZE CAFE feeding you some fine vegetarian delights
Friday 20th May
Following an afternoon of workshops and fun in the kids area fill ya tummies up at our SABZE CAFE and prepare for an evening of……
Spoken Word
Poetry
Cabaret
……………..Make some sense? or dress to impress?………………….
Saturday 21st May
Kids Area
Playskools
SABZE CAFE
…………plus an evening of…………
SKA…PUNK…DIY FASHION SHOW…LIVE MUSIC…
Sunday 22nd May
take down
Throughout The Event
Throughout the event there will be
The Temporary Autonomous Exhibition - Multidisciplinary - video, Textile, graffiti… as ever get involved
Kids Area
Open Mic relax and relate to Sheffield's finest performers
SABZE CAFE feeding you some fine vegetarian delights