Every second Monday of the month the Shut Down H + K campaign in Nottingham hold a peaceful picket outside the Easter Park Industrial Estate, Nottingham, to highlight and protest the presence on the business estate of the international arms manufacturers and traders, Heckler and Koch. Heckler and Koch have been in the city for over five years and an arms manufacturer of varying degrees and under various names has been in the city for many decades. Protesters have always been around to highlight these scum and protest against them, as I'm sure many of us would expect.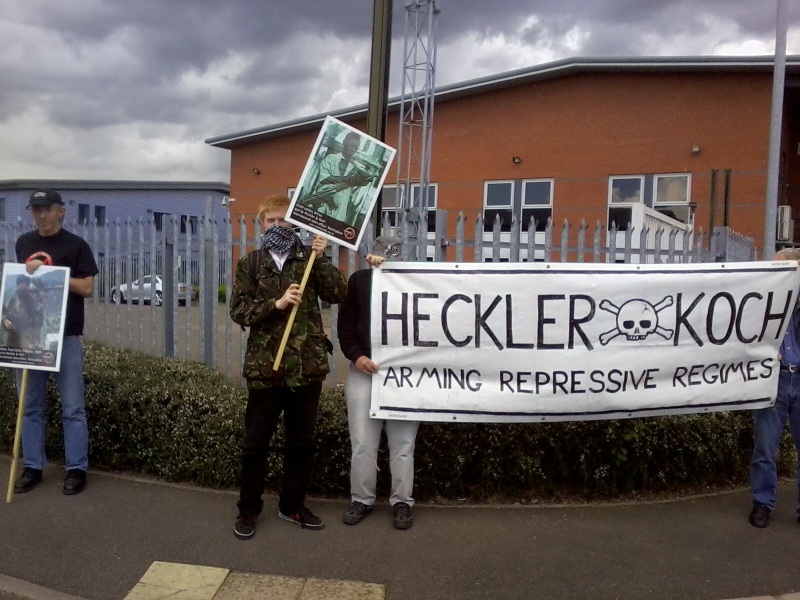 A nice photo opp!!
Usually, the activists have been faced with police hindering their access to the estate with security guards on site to deter anyone fancying their chances of taking the protest to the gates of the unit 3 building housing the arms traders and this has become an accepted part and parcel of the monthly pickets. Recently the 'security' apparatus against Shut Down H + K has been scaled back or abandoned (the security hut was shut and there were no cops about).
However, faced with no police presence and no hi-is wearing security goons yesterday at the planned monthly picket, the activists decided to 'breach' the parameter of the site and hold their demo outside the gates of the arms manufacturing scum and leaflet workers leaving the units around them, including many workers who were unaware of H + K's presence. The reason H + K are afforded relative anonymity is probably down to the secretive manner in which they occupy unit 3 of the industrial estate, their name is absent from the estates 'address board' at the front gates of Easter Park.
Well done to those involved for taking the picket back to the gates of H + K!