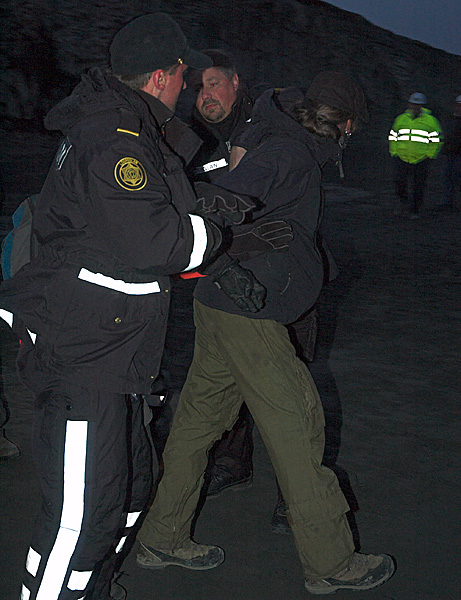 Icelandic police "deal" with Mark Kennedy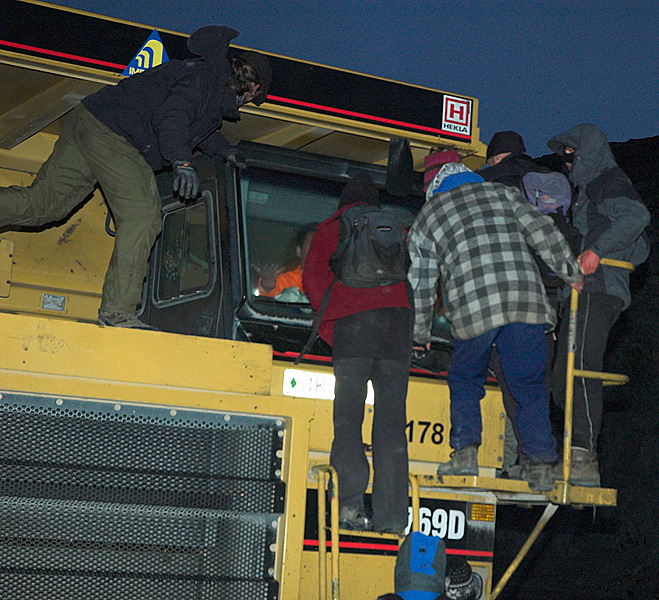 Mark Kennedy plays the hero at Karahnjukar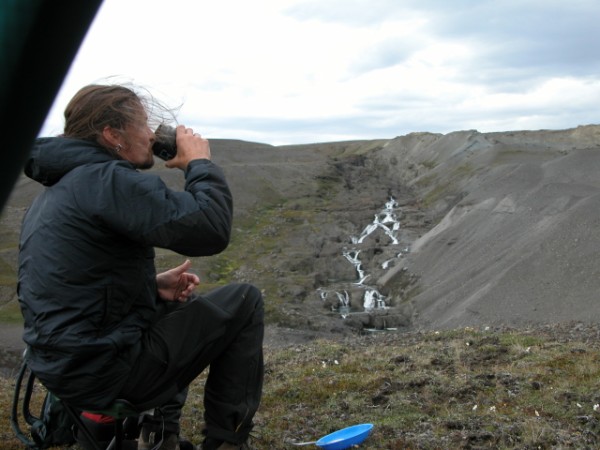 Traitors' cup of tea in Saving Iceland camp
May 3rd 2011
Press Release
Saving Iceland
Saving Iceland reveals photographic evidence that show that the
Icelandic police did in fact have "dealings" with Mark Kennedy, despite
their official statements that this was not the case. Saving Iceland
released the photos today, accompanied by a statement detailing the
evidence (see here:

http://www.savingiceland.org/2011/05/new-photographic-evidence-shows-that-icelandic-police-lied-about-their-dealings-with-mark-kennedy/
).
It is likely that this evidence only shows the tip of the iceberg about
the involvement of Icelandic authorities in the illegal international
police infiltration of the Saving Iceland network. Past disclosures by
Icelandic police that revealed close collaboration with UK police around
environmental protests, during the period that Kennedy was actively
involved in Saving Iceland, are further indicators that Icelandic
authorities were aware and collaborated in the Kennedy operation.
According to Saving Iceland, Icelandic authorities are deliberately
dragging their heals at revealing the truth that they harbor about the
Kennedy case. The Icelandic authorities are using the report that the
Minister of the Interior has ordered from the National Commissioner as
tactical means to delay and defuse the serious consequences that the
unraveling of the truth about the Kennedy case may have for them.
This reluctance to respond to the demands for the truth contrasts with
that of the German and Irish authorities, which have made official
statements in which they admit their awareness of Kennedy's operations
within their jurisdictions.
"The Saving Iceland network demand that the Icelandic authorities stop
lying and evading and immediately reveal the full facts about their
involvement in the Kennedy case," says Olafur Pall Sigurdsson, founder
of Saving Iceland.
"We also call on all those who have formerly voiced concern about the
blatant violation of civil and human rights in relation to the Kennedy
operation, to put their money were their mouths are and mount pressure
on the Icelandic government to discontinue this travesty of justice,"
states Sigurdsson.
Please see a statement from Saving Iceland regarding this for
references:

http://www.savingiceland.org/2011/05/new-photographic-evidence-shows-that-icelandic-police-lied-about-their-dealings-with-mark-kennedy/
More info:
The Saving Iceland collective

savingiceland@risep.net
www.savingiceland.org