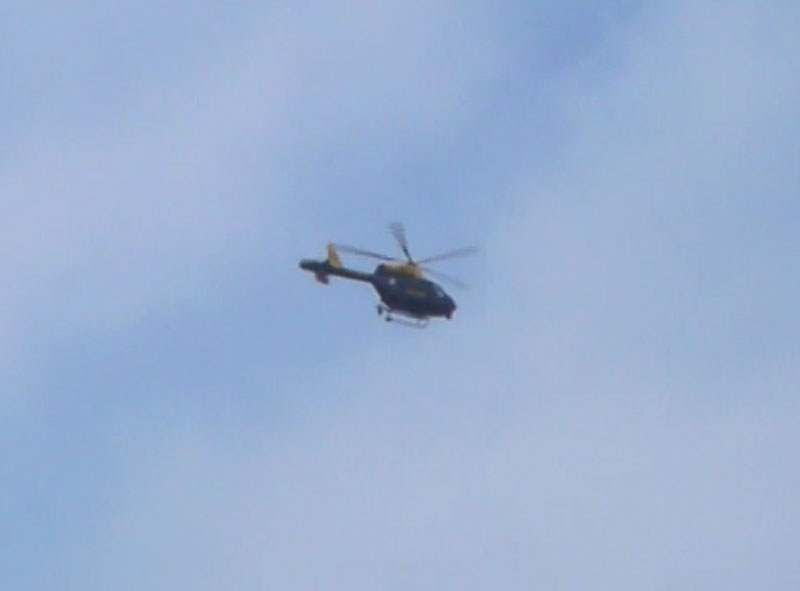 £3000 per hour Chopper


Devonshire Green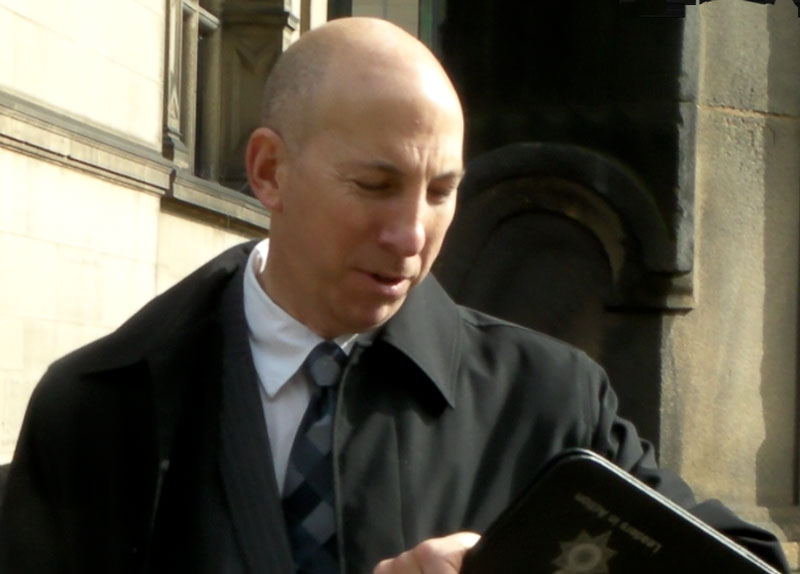 Plain Clothes (very)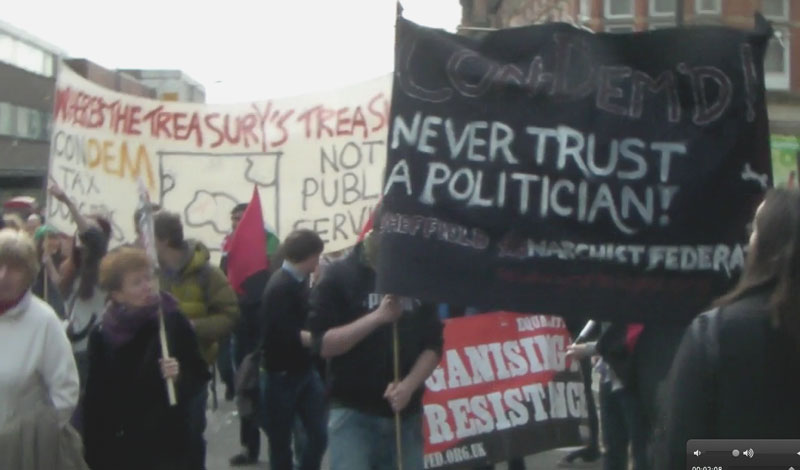 Never Trust a Politician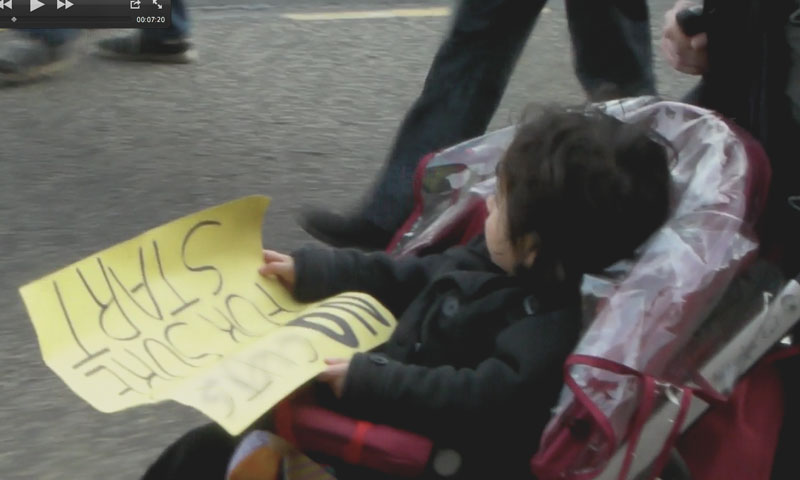 Just to pay some rich banker their interest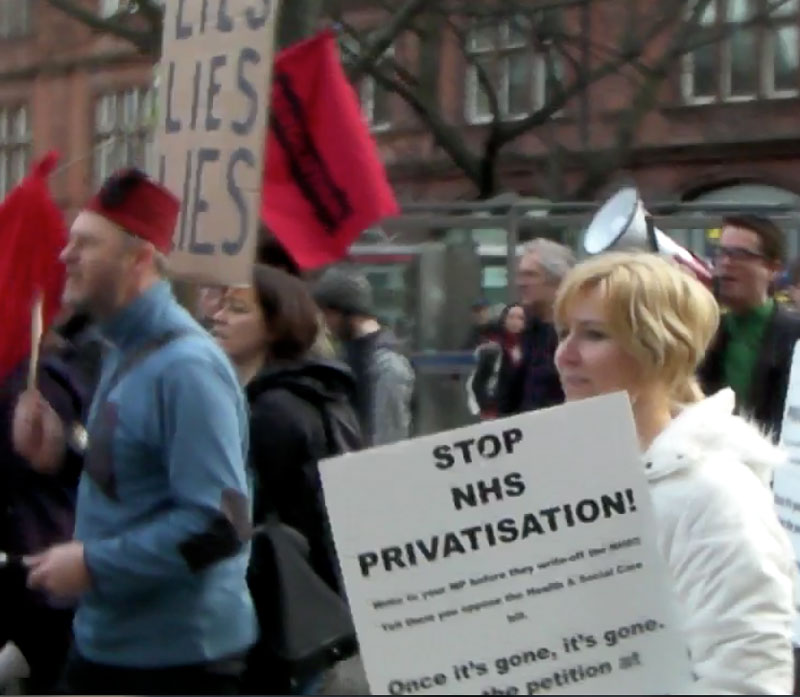 Defend the NHS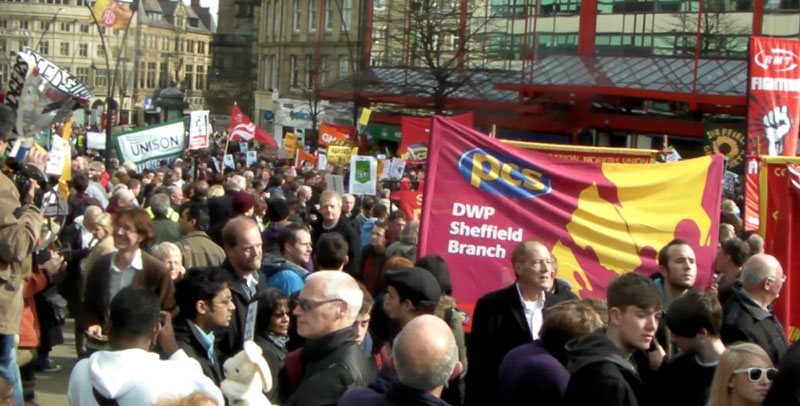 Barkers Pool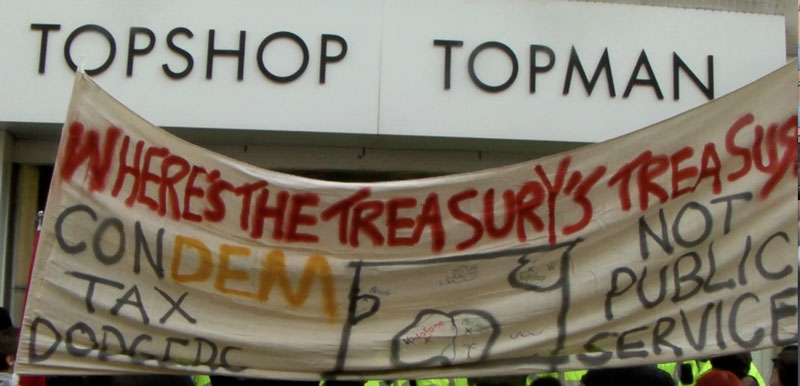 TopShit Tax Dodgers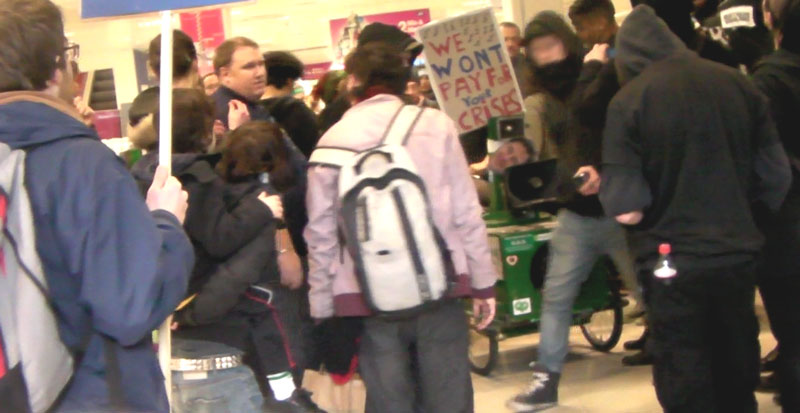 Boooooo(ts) Pay your Taxes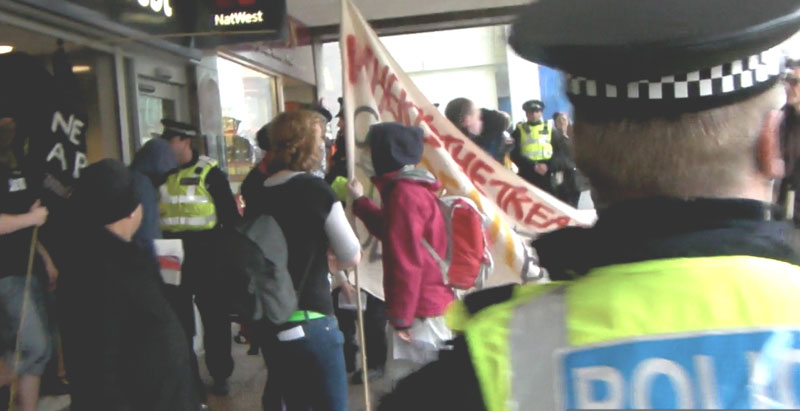 Twat Worst Bank - Pay your Taxes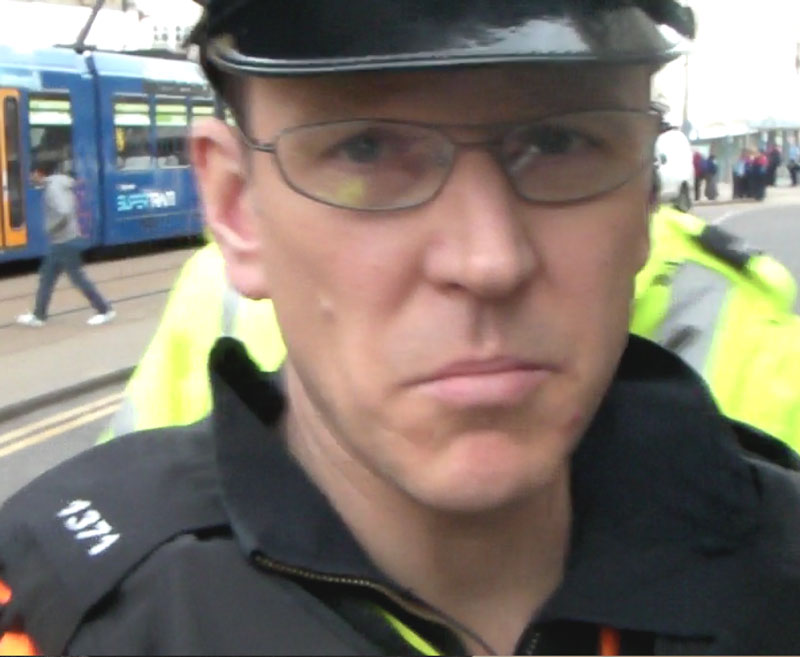 EG 1371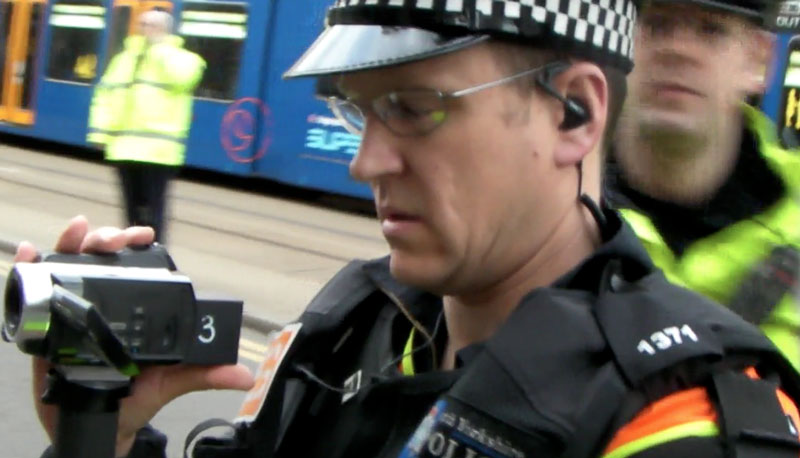 EG 1371 Again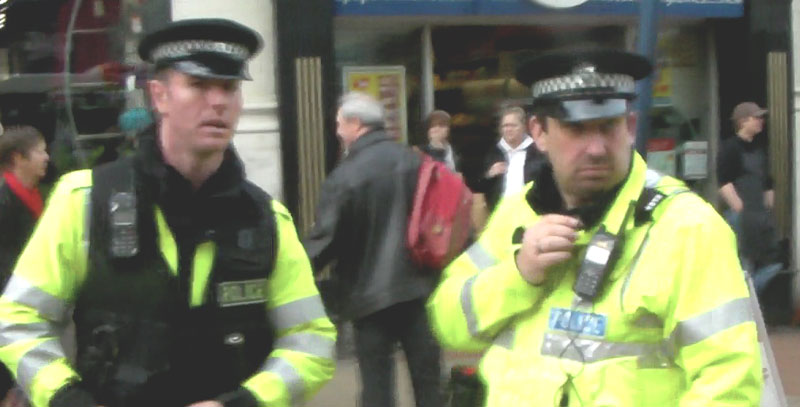 Odd Couple of Stalkers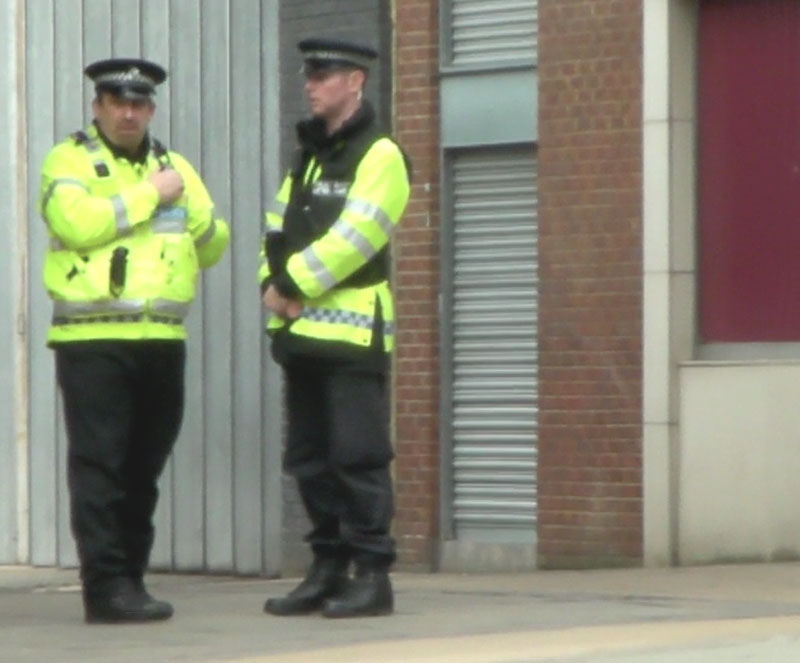 Odd Couple of Stalkers, Yesterday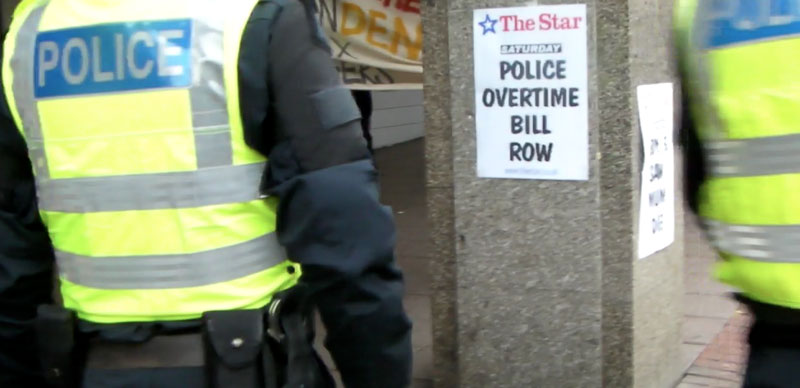 Overtime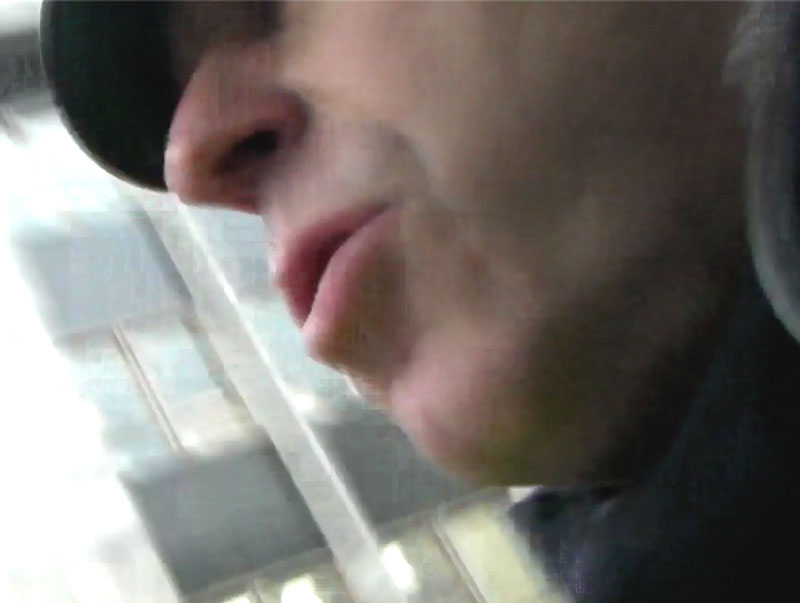 Neanderthal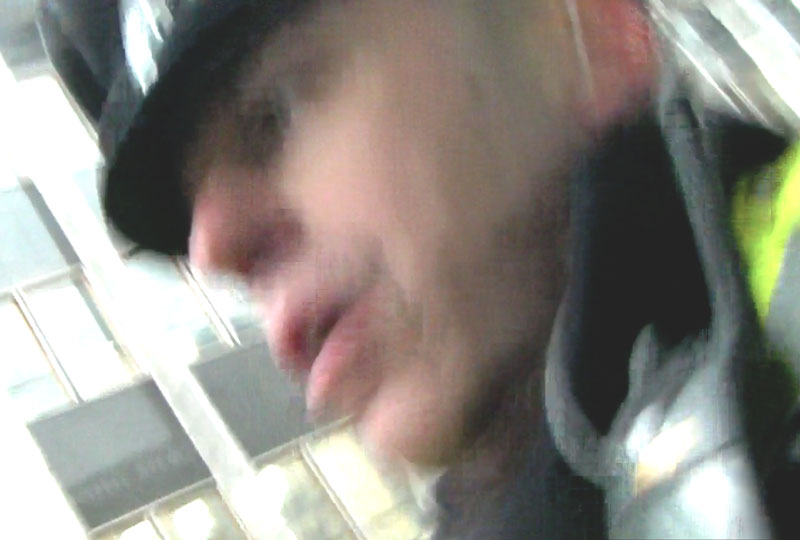 Pretty Vacant
Note: These are stills taken from video
Day 2 started at Devonshire Green, with the three grand an hour chopper in the skies [01]. Speeches, the usual stuff, down with this sort of thing,[02].
Patrick Streeter the Old Harovian, Lib Dumb Councillor who yesterday said he might one day become "somewhat rebellious ... if the coalition had failed", IF Ha!, tried to crash the stage to make a speech, but was declined and ushered away by ushers saying "'ush".
I went for a scout round and a sarnie and met this follically challenged Plain Clothes (Well they're nowt special are they?) officer, he had to check to see if it was afternoon or morning [03]. It said "Leaders In Action" on his folder thing!
The march then proceeded in an orderly fashion to Barkers Pool for more speeches [04,05,06,07].
Notwork-1312 (I think that's what they're called) then began some Direct Action, Yea!, against the tax dodging stores TopShit[08], Booooooots [09] leaving after each short peaceful protest (to banging beats) peacefully (again to banging beats).
The next target was Twat Worst Bank [10]. By now the pleece were begining to cotton on [11, 12] and began an organised response! The usual top down and hierarchical approach. Watched by these two characters [13] (who had been seen yesterday loitering without a clue outside the convergence centre [14]). They began earning overtime [15] when what they call a 'serial' of cops turned up. Time to go!. As we left another 'serial' were heading to the bank, too late cops.
The Bizzies seemed to take exception to people entering shops and banks without transacting business, and instead having a protest party, so they tried a sneak snatch attack from behind (never turn your back on a Copper) a few were kettled for a short time, but managed eventually to wriggle free. I was grabbed by a vacant neanderthal PC [16, 17] (you know there might be some one in there, but the lights are definitely turned off), but he couldn't hold a granddad! What was he going to say? "I'm detainin' you for enterin' a retail premises without no intention of shopin'".
You say Cut Back. We Say Fight Back
Cut the War not the Poor.