The Royal Mail is putting people in danger by hiring Nazis as postmen. The SheffieldLib can confirm that Jordan Pont of the British Nazi Party works as a postman for the Royal Mail, coming into daily contact with the vulnerable; children and the elderly.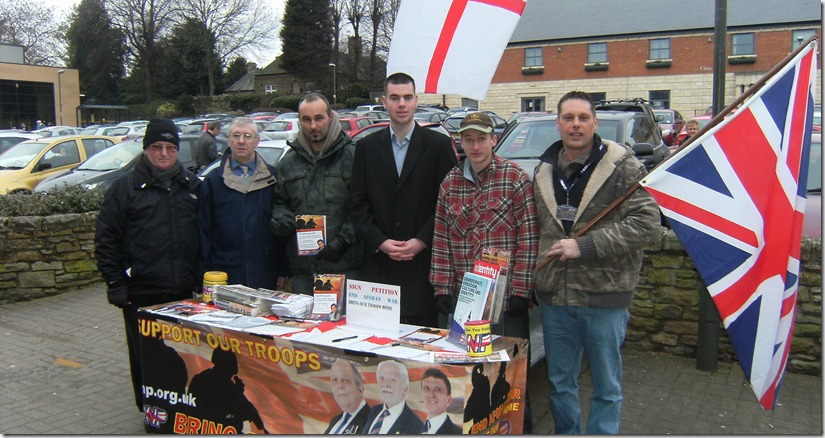 The Nazi Postie, Centre
Jordan Michael Pont, 21, who stood as candidate for Woodhouse and lives at Woodseats, Sheffield, is the organiser for North East Derbyshire and is part of the BNP's brainwashing youth cult, "The Crusaders", which is designed to feed racist poison to our young; grooming them as Nazis so the BNP has a supply of future activists.
It has been confirmed that Jordan Pont works for the Royal Mail as a postman. Do you want to trust a Nazi with YOUR mail? Do you want him goose stepping to YOUR letterbox?
We find it outrageous and sickening that such an evil organisation could infiltrate a national institution such as the Royal Mail, which is supposed to promote equality and tolerance, not hatred and racism.
We have all complained to the Royal Mail, and urge a call to arms for all peace and tolerance loving people to do the same. Let them know that we do not want Fascists handling our personal letters and parcels.
Jordan Pont who has been known to be a supporter and sympathiser of BNP reformist Eddy Butler only polled an embarrassingly low 143 votes in the Woodhouse by-election and is looking to stand in NE Derbyshire this May, Dronfield & Chesterfield being his two main choices.
We will keep you updated on this shocking revelation that the Royal Mail is entrusting OUR personal mail with Nazis. We will post any responses we get regarding our complaints to the Royal Mail.
What is more worrying here is that Jordan Pont is a leader in the BNP's youth cult. Somebody in a trusted position such as a postman should be safe around kids. This postman is brainwashing our young, feeding them vile poison, filling them with hate and Fascism, recruiting them into the youth cult "The Crusaders".
This is a vile breach of public trust and we demand the Royal Mail acts now. We don't want Nazis delivering to our doors!