see

http://www.indymedia.org.uk/en/2011/01/472363.html
Marco Jacobs was an undercover officer in Brighton in 2004/5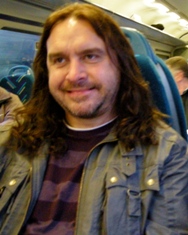 "Marco Jacobs" was active in Brighton
Marco didn't find out much... He was present at publicly organised meetings and events run by Brighton Dissent, who he took meticulous minutes for, and Smash EDO. As far as we are aware he was never trusted enough to be given any sensitive information.
From the beginning there were suspicions about Marco - In fact he used to joke that everyone thought he was a cop.
He appeared in Brighton in late 2004/early 2005 and began hanging around the Cowley Club social centre. He told people that he did work as a landscape gardener and a truck driver (explaining long periods away from Brighton) and that he had come from Reading. He had a house close to Elm Grove where in Brighton
He began attending meetings of the Dissent network and was involved in building for an action at Wiston House in the run up to the G8 in Stirling. He went out flyposting in Brighton with other activists about the G8 mobilisation (two of them got nicked and had their houses searched)
While he was involved in Dissent Marco asked a lot of questions about Smash EDO and in 2005 he attended a demonstration in London at a conference that EDO had helped to organise about Unmanned Aerial Vehicles. Marco was one of the people who were ejected from the hotel after occupying the conference room.
He attended several public Smash EDO events and noise demonstrations (in the context of a growing campaign against EDO and an attempt by Sussex Police and the company to obtain a High Court Injunction against campaigners).
He also went on visits, with others from Brighton, to protest camps at Shepton Mallet and Camp Bling.
Marco treated the Cowley bar as his regular and was often generous in buying rounds. He sometimes bragged about fights he had been in and how much he could drink. He had a habit of making sarcastic comments in social situations and meetings, which may have been an attempt to disrupt activist organising.
Marco left Brighton in around 2006 for Cardiff - he said this was because of finding work and because there was a big anarchist scene in Cardiff. He may have left because he didn't get anywhere within groups in Brighton.
In 2006 Marco was nicked over a pipeline action in Milford Haven and had his house raided.
In 2007 Marco attended the Camp for Climate Action at Heathrow, the anti-g8 camp at Reddelich in Germany(where he was part of a black bloc mobilisation) and the No Borders Camp at Gatwick - there were many suspicions that he was a cop but no proof.
Some Brighton activists voiced concerns about Marco to other activists from Cardiff and around the country.
In 2009 Marco was at the Smash EDO Mayday action.
We weren't surprised when Marco turned out to be a cop. It is no surprise that the police try to infiltrate our movements and they will continue to do so. It is not pleasant to find out that someone you thought, at one point, was a friend is a cop but he did not, as far as we know, disrupt actions in Brighton and our movements will not be deterred by Marco or people like him