The alliance between the anti-imperialist countries of Latin America and the Middle East is asserting itself.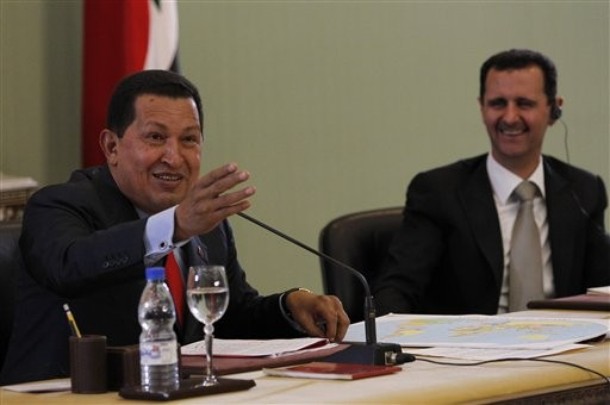 Chavez and Assad hold a joint press conference in Damascus, 21 October 2010
1) Chavez to Assad: We should speed up the birth of a new world order (21 October 2010)
2) Chavez to Ahmadinejad: Today is the end of imperialism. It's very close (20 October 2010)
____________________________

http://www.sana.sy/eng/21/2010/10/21/314726.htm
excerpts from:
President al-Assad: Israel not ready, unwilling to make peace…
President Chavez: our alliance with Syria based on amity, support to Syria's right to restore occupied Golan
SANA, 21 October 2010
President Bashar al-Assad on Thursday said Venezuela's support to the Arab issues is continuous everytime and everywhere.
President al-Assad's remarks came in a joint press conference with President of the Bolivarian Republic of Venezuela Hugo Chavez following their talks.
"Syria's relat ions with Venezuela consolidate its ties with South America and vice versa," said President al-Assad.[...]
"The current world order is figuratively called 'order'; but it is rather disorder as said on many previous occasions. This world order is governed by power and domination instead of justice and principles."
President Chavez commented "We should speed up the birth of the new world order which is being born today to reach a multilateral and balanced world in terms of economic, cultural, political and military sectors."
"Thanks to the efforts of millions of people and leaders like the brave and wise President al-Assad, we will reach this new world in the coming few years and we'll forget all about the old one which is built on domination and repression."
President Chavez added "We are setting up an alliance with Syria built on amity between the Syrian and Venezuelan peoples," stressing that great things are built only on emotional and spiritual bases.
President al-Assad stressed that "Syria shares Venezuela's rejection of any intervention in the internal affairs of our countries and regions as well as the other neighboring and surrounding countries."
The President said "It is difficult to separate the bilateral relationship from the relationship between the two regions due to the existing exchange and integration as the link between the bilateral and regional sides in this relationship is directly but not inversely proportional."
For his part, President Chavez stressed Venezuela's support to Syria's right to restore the occupied Golan, adding that "I hope the day will come when I will be visiting Golan after its liberation."
"Syria's joining the Bolivarian Alliance for the Americas (ALBA) as a guest member will help bolster the relationship regionally…and signing the regional alliance today is inseparable from our relations with Venezuela," President al-Assad said.
____________________________

http://www.presstv.com/detail/147520.html
Ahmadinejad, Chavez highlight unity
Press TV, 20 October 2010
Iranian President Mahmoud Ahmadinejad and his Venezuelan counterpart Hugo Chavez have underlined the need to expand cooperation in fighting imperialism.
Ahmadinejad and Chavez on Wednesday highlighted enhanced cooperation between Iran and Venezuela as a key factor in standing up to the enemy.
Ahmadinejad said that cooperation between the two countries was of "high significance."
He said that the two countries were "united to establish a new world order based on humanity and justice."
President Ahmadinejad condemned the expansion of militarism as well as the interference of bullying powers in Latin America.
Chavez, in turn, called Iran-Venezuela ties as a "strategic alliance" and described his visit to Tehran as significant in showing the depth of relations between Iran and Venezuela.
"Imperialistic countries are trying their best to stop our progress … But the more we resist and the more we try, no matter how hard they try or how much they threaten us, they will move toward graveyard by their action," Chavez said.
"Today is the end of imperialism. It's very close," he added.
Chavez also reiterated his strong support of Iran's independence and condemned threats of military action against the country.
The Venezuelan president arrived in Iran on Monday for a three-day official visit, with the goal of boosting ties between Tehran and Caracas.
This is Chavez's ninth visit to Iran since taking power in 1999 and comes almost one year after President Ahmadinejad paid a visit to Venezuela.
Iran has developed amicable relations with numerous Latin American countries, including Venezuela.
Iran's soaring popularity in Latin America has dismayed the United States, which has been engaged in a tireless global campaign to isolate Tehran over its nuclear program. Washington considers Latin America as its "strategic backyard."
____________________________
related link:
Media blackout regarding Fidel Castro's speech on the implications of nuclear war
by Michel Chossudovsky, Global Research, 21 October 2010

http://dandelionsalad.wordpress.com/2010/10/21/media-blackout-regarding-fidel-castros-speech-on-the-implications-of-nuclear-war-fidel-castro-message-against-nuclear-war/
____________________________
from the archives:
Five Latin American countries condemn the U.S. and its allies for their militaristic aspirations against Iran
CASMII, 18 July 2010

http://www.campaigniran.org/casmii/index.php?q=node/10551
Fidel Castro: An incident could set in motion an all-out nuclear war against Iran
by Fidel Castro Ruz, CASMII, 16 July 2010

http://www.campaigniran.org/casmii/index.php?q=node/10549
Brazil slams UN Security Council Sanctions Resolution against Iran
CASMII, 9 June 2010

http://www.campaigniran.org/casmii/index.php?q=node/10314
Clinton: Latin American countries should think twice about establishing links with Iran
Dandelion Salad, 12 December 2009

http://dandelionsalad.wordpress.com/2009/12/12/clinton-latin-american-countries-should-think-twice-about-establishing-links-with-iran/
US escalates war plans in Latin America
by Rick Rozoff, Dandelion Salad, 23 July 2009

http://dandelionsalad.wordpress.com/2009/07/23/colombia-us-escalates-war-plans-in-latin-america-by-rick-rozoff/
__________________________