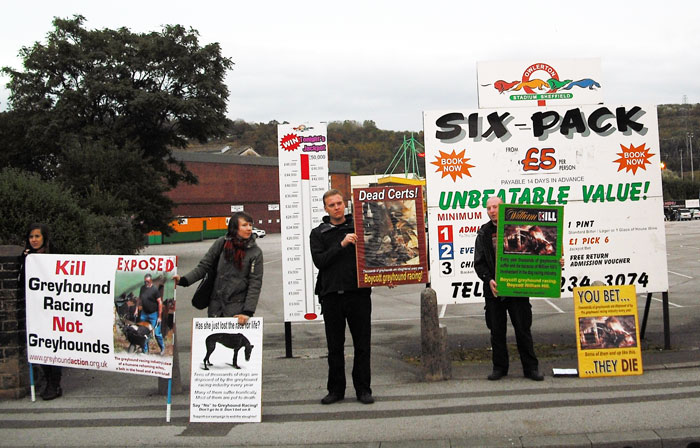 Demonstration by local Greyhound Action supporters outside Owlerton Stadium
A trainer "attached" to Sheffield's Owlerton Stadium, who regularly races greyhounds there, has been charged with offences by greyhound racing authorities after one of his dogs tested positive for cocaine.
Stuart Mason, who trains greyhounds at kennels near Wakefield, faces a Greyhound Board of Great Britain inquiry after it was confirmed that his dog Droopys Arshavin tested positive for cocaine and its metabolite benzoylecgonine following a race at Wimbledon on August 3rd.
(See

http://www.thestar.co.uk/news/Top-greyhound-39given-cocaine39-.6525719.jp
)
Mason raced the dog again at Sheffield a week later.
An international greyhound protection group has said it is angry but not surprised after hearing of the allegations against Mr Mason.
The group's UK Co-ordinator, Tony Peters, said: "Sadly, the doping of racing greyhounds appears to be widespread and most of it goes undetected.
"For public relations reasons, the Greyhound Board of Great Britain makes a show of trying to catch offenders and, from time to time, somebody is charged, but this case is really only the tip of a very large iceberg.
"Although doping is obviously carried out to defraud bookmakers and other punters, our main concern is the harm it causes to the dogs and the risk to their lives in giving them substances like cocaine.
"It is yet another example of how little those in the racing industry care about the greyhounds they use as money-making commodities.
"We are calling on the police to investigate, as a Class A drug has been administered to this greyhound, which is far too serious a matter just to be left to the racing authorities.
"In addition to the problems caused by doping, thousands of injuries to greyhounds, many of them serious, occur every year in Britain. The main reason for this is that the shape of the tracks, with fast straights leading into tight bends, creates a very dangerous environment for dogs to run in.
"Two years ago, a report by investigative group Greyhound Watch branded Owlerton 'one of the most dangerous greyhound tracks in Britain', because of the number of injuries occuring there. (See

http://www.thestar.co.uk/headlines/Owlerton-track--is-39dangerous39.4376123.jp
)
"What is even worse is that, according to recent research, more than 12,000 greyhounds, bred for the British racing industry, are 'put down' every year, after failing to make the grade as racers or when their 'careers' on the tracks come to an end.
"An RSPCA report on greyhound racing has stated that 'at least 20 greyhounds a day - either puppies which do not make the track, or retired dogs aged three or four - simply disappear, presumed killed'.
"Members of the public can help put an end to this horrific situation by not attending dog tracks or betting on greyhound racing, so this appalling death-industry fades away through lack of financial support."
Local Greyhound Action supporters hold regular demos outside Owlerton Stadium as part of a campaign to get the greyhound track closed down. The photo above, taken at one of their demonstrations, can be downloaded (right click on picture) in a larger size for printing at

http://tinyurl.com/OwlertonDemo
, for use free of charge.
Anyone wanting to help the campaign to close the Owlerton track, please contact Sheffield Greyhound Action at

sheffieldgreyhoundaction@googlemail.com
or on 07757 278824.
For more information, visit Greyhound Action's website at

http://www.greyhoundaction.org.uk
or contact Tony Peters on 01562 700 043 or 07703 558724.