Today SAF launched a new campaign against Eton, a clothes shop on Division Street in Sheffield selling fur.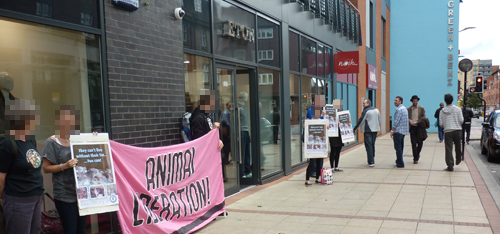 For five hours, up to 15 activists stood outside with banners, placards and leaflets, asking members of the public to boycott the shop. Eton is the only shop we know of in Sheffield selling conventional fur (we are soon to start campaigning against a shop selling "vintage" fur) so this campaign will be a priority for SAF. Both the Sheffield and Rotherham branch will be targetted until Eton declare a fur-free policy.
We have demos planned for tomorrow (Sunday) at 2pm, as well as the coming Friday and Saturday. We are also encouraging people to contact Eton to complain about their shameful support for animal cruelty. See the SAF website for updates on the campaign.
Sheffield branch:
38 Division Street
Sheffield, S1 4GF
0114 270 0829
Rotherham branch:
12 Wellgate
Town Centre
Rotherham, S60 2LR
01709 377 555