Five evenings of queer cinema… come for gender-bending cinema that makes you think… queer trash and horror in the campest of settings… features and shorts that take us beyond the queer 'scene'… take in some history and current struggles in the queer world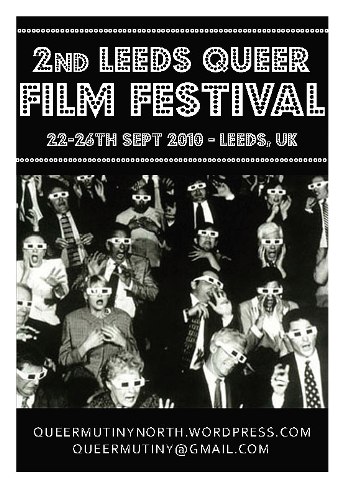 Queer Mutiny North is a D-I-Y collective that puts on free queer events and gatherings in the Leeds area. All film showings are free, donations are welcome but there will be no obligation; everyone welcome.
Queer: Defies definition, rejects restrictive gender and sexuality binaries, all inclusive and non exclusive, fluid and changeable, anti-heteropartriachy.
Money raised is going to Bent Bars, a letter-writing project for lesbian, gay, bisexual, transgender, transsexual, gender-variant, intersex, and queer prisoners in Britain. For info about bent bars: www.co-re.org/bent-bars
At a secret location… call or text 07966570044 nearer the time for details, get in touch for sleeping space if you are coming from out of Leeds.
For the latest information check www.queermutinynorth.wordpress.com or email queermutiny[at]gmail.com