Later this month English Defence League supporters hope to parade their hatred through the streets of Bradford but there is a massive campaign underway to legally stop them. But if the EDL do end up coming, should we really allow a counter protest?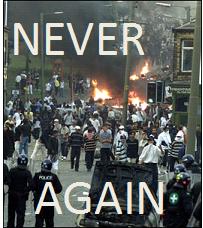 The English Defence League is calling its protest in Bradford "The Big One" and with good reason. There are few other places in the country where an EDL protest will be seen as more provocative. Despite pretending to be opposed only to Islamic extremism, the EDL is going to Bradford to provoke the city's large Muslim population.
Almost a third of the people of Bradford are Muslim, the second highest proportion anywhere in England outside London. More significantly, the city experienced race riots in 2001 for which 200 people went to prison. The city's reputation was destroyed, divisions between communities widened and deepened and the only beneficiary was the BNP, which began to make significant breakthroughs in council elections.
The scars of the 2001 riot run deep and the city cannot afford another. That is why we are doing everything now to prevent the EDL protest from taking place.
Speaking out against a counter demonstration often attracts strong criticism. It has been argued by some that by not allowing a counter protest, the EDL are getting free passage in the city, that we are somehow breaking the anti-fascist tradition of No Platform. This is not true.
We fully understand the desire of people to mark their opposition to the EDL and many find a counter-demonstration appealing. Perhaps in some places there might be a case for one but in Bradford we believe there is not.
No EDL protest has actually been stopped by a counter-demonstration so the argument about No Platform does not hold. In almost every instance the EDL has held its static protest regardless of the actions of anti-fascists. More worryingly, some have led to disorder.
To some extent the very fact that the EDL has been able to protest at all represents a defeat. That it has been able to do so regardless of counter-protests suggests that perhaps the tactic of counter-protests is not working.
We also question the impact counter-demonstrations have on local people. Unfortunately much of the media coverage of earlier protests has presented a scene of two groups of extremists. This has especially been the case when there has been disorder or large-scale arrests of anti-EDL protests. The media coverage in Birmingham, Bolton and Manchester presented the anti-EDL protests in a negative light – hardly the best way to win hearts and minds of local people.
We believe that Bradford cannot afford further disorder and we fear that thousands of EDL protesters descending on the city, matched by thousands coming out to oppose them, could well provoke it. And this time the city might not recover.
Most progressive organisations in Bradford oppose a counter-demonstration, including local trade unions, political parties, faith groups and community groups. Last month Yorkshire and Humber TUC added its opposition to a demonstration.
And finally, let us be honest about what happened in 2001. Thousands of people came out to support an anti-fascist demonstration in protest against a planned National Front march. The NF demonstration was banned but a small group came into the city and began making Nazi salutes at the protesters. People had been standing around in hot weather for several hours with nothing to do, no direction and little purpose. They reacted to the racists, disorder ensued and two days of rioting began. Two hundred people, virtually all local Asians, went to prison for a total of 604 years.
Anti-fascists have a responsibility to those attending demonstrations and to the communities we are supposed to protect. Another riot is the last thing the people of Bradford need and we owe it to them to do everything we can to prevent one. And that means stopping the EDL from coming to Bradford in the first place.
The EDL is coming to Bradford to provoke another riot. Let's not give them one.