The insiduously racist EDL have successfully used social networking site to hoodwink GMTV, distorting public opinion to make it appear that almost everybody in the United Kingdom wants a racist version of fashion police to patrol the streets harrassing the devout minority of Muslim who wear the religious facial garment.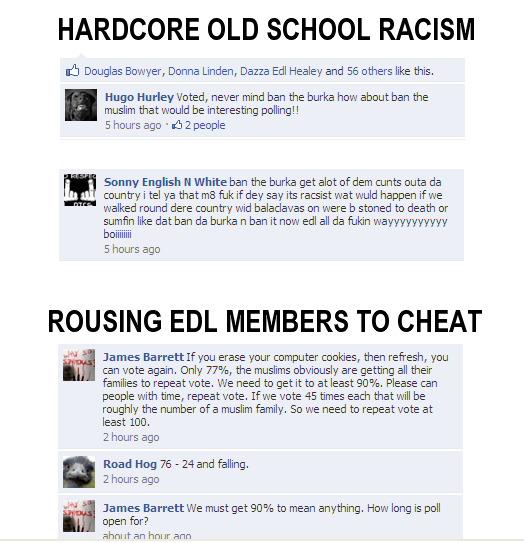 GMTV have been stupid to run a poll on the internet that has been attacked by the EDL's ring of professional racists. Together, via email and Facebook messages, the EDL have posted numerous votes against Asian women being allowed to wear the burkha in the United Kingdom.
The poll can be accessed here: -

http://www.gm.tv/polls/51384-burkha-poll-british-ban.html
Please complain to GMTV that their poll is being hijacked on 0870 243 4333 between 6am and 10am, or send them an email to:

talk2us@gm.tv
The EDL's Facebook site has been openly boasting about how they have manipulated the voxpop poll, and they have allowed their members to post plenty of racist comments that as well as Britain banning items of Muslim clothing, they should also deport all Muslims from the UK: -
See the screenshot below, noting the hardcore Blood & Honour-style racist comments from regular EDL forum contributors "Hugo Hurley" and Sonny English N White: -
(If these two hardcore neo-nazi creeps happen not to be on the dole, lets hope their employers can discover what they get up to in their spare time, and give them the sack!)
And (the equally racist loser) James Barrett calls for each and every EDL member to erase the cookies on their computers to vote upto 50 times each.
Thank goodness general and local elections are not run online or else the BNP would have got into parliament.
With the same upperclass capitalist millionairre who funds the Holocaust-denying Swedish Democrats, Alan Lake, pumping money into their Islamophobic campaigns, they are finding more ways to stick their tentacles of hate into all escehlons of British society, and they must be opposed by a broad unity of all radical political groups.
It's time to stop the in-fighting and recriminations, and destroy the riot-starting EDL before it gets out of hand.
Anybody who trolls on this and other sites trying stress that a handful of tokenistic self-loathing EDL members "of colour" are proof the EDL aren't racist need only remind everybody how the EDL's Facebook moderators refuse to ban the likes of Hugo Hurley and Sonny English N White from posting hardcore racist bile.