A peaceful, imaginative and fun protest against oil dependency and car culture. A celebration of the bicycle and also a celebration of the power and individuality of the human body. A symbol of the vulnerability of the cyclist in traffic. The world's biggest naked protest: 50+ cities and thousands of riders participate worldwide, including more than 1500 in the UK in 2007.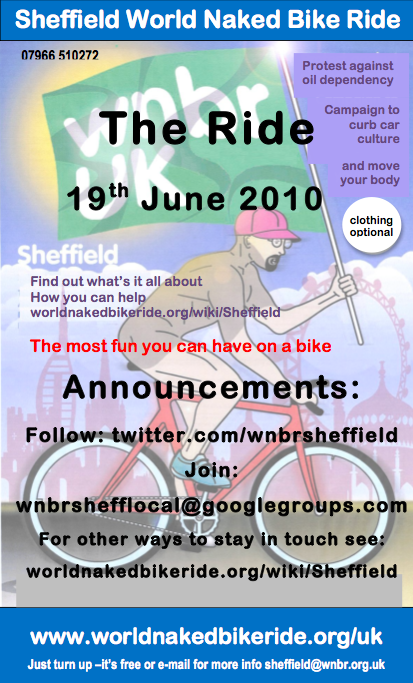 Date: Saturday 19 June 2010
Time: 10 am
Location: off Rustlings Road in Endcliffe Park, at the Victoria Monument (this area is just off the Ecclesall Road, and south-west of Sheffield city centre
Endcliffe Park (Hunters Bar roundabout entrance)
Rustlings Road, Sheffield, South Yorkshire, S11 7AB
Be prepared
First off, check your bike is in good working order. Bring something to safely carry your clothes in (panniers, rucksack, etc)- this is important as the rides does not finish back at Endcliffe Park. Bring a spare inner tube in case of puncture. Finally, you might want to decorate your bike and body with slogans, and bring bells and whistles!
Route
The third 2010, Sheffield World Naked Bike Ride starts in Endcliffe Park at the Victoria Monument.
NOTES: Try and avoid gathering near the Endcliffe Park Cafe as this is a family cafe. DO NOT GET COMPLETELY UNDRESSED IN THE PARK - EITHER leave on a minmal amount to whip off just outside the gates, or once we're on to Ecclesall Road, or wait for the halt at St Marys Gate Roundabout
WNBR Sheffield 2010 proposed route, version 12
Start Endcliffe Park Hunters Bars Entrance approx 10:30am
1. RIDERS ARE ASKED NOT TO GET COMPLETELY UNDRESSED IN THE PARK
2. Enter roundabout and take 2nd exit – Ecclesall Road
3. Continue to Roundabout at St Marys Gate
4. Enter cycle Lane to left
5. Brief stop to re-group in underpass at centre of roundabout
6. Exit Roundabout onto Moore Street
7. Right onto FitzWilliam St
8. Right onto Devonshire Street
9. Straight on into Division Street
10. Follow road right onto Cambridge Street
11. Right onto Wellington Street
12. Left onto Carver Street
13. Left onto Furnival Gate
14. Left onto Pinstone Street
15. Left onto Cambridge Street – follow round to right - Charles Street
16. right onto Pinstone Street
17. At T Junction right onto Furnival Gate
18. At Rounabout left(1st exit) onto Charter Row
19. Left onto William Street
20. Continue into Cumberland st
21. Left onto Eyre Street
22. Right onto Jessop Street
23. Left onto Slyvester St
24. Left onto Arundel St
25. Right onto Matilda St
26. Turn left onto Shoreham Street
27. Continue past Railway station to Park Square
28. Follow cycle lane left onto Commercial Street
29. Right onto Market Place continue down Angel Street
30. Right onto Castle Street
31. Right onto Haymarket
32. Straight on Fitzalen Sq
33. Left onto Flat Street
34. Straight on - Pond Street
35. Right up Howard Street - once dark grey paving stops follow red cycle path right
36. Brief stop to regroup
37. Right onto Arundel Gate using light controlled crossing
38. Left onto High St Street (becomes Church Street)
39. Straight on - West Street
40. Straight across Hanover Way onto Glossop Road
41. Take left-hand fork onto Clarkhouse Road
42. Follow Road onto Brocco Bank
43. At Hunters Bar turn left onto Ecclesall Road
44. Continue on Ecclesall road to Roundabout on St. Marys Gate
45. Stop in underpass at centre of Roundabout, dress and disperse
(We encourage riders to then go to the bike festival on Devonshire Green nearby)
To find out more:
General Information
* Email sheffield AT wnbr DOT org DOT ukor call 01414 161494
* Announcements only (organisations and interested persons)
* subscribe to wnbrshefflocal AT googlegroups DOT com (open to anyone, subscribers list is private)
* Follow us on Twitter

http://twitter.com/wnbrsheffield
Riders or potential riders
* Join our Yahoo

http://groups.yahoo.com/group/wnbr-sheffield/
and/or Facebook groups

http://www.facebook.com/group.php?gid=210448280407
* RSVP our Facebook event:

http://www.facebook.com/event.php?eid=98640853183
* Tell us you are riding here:

http://bit.ly/dCBrkX
* ...Alternatively, just turn up and join in, as bare as you dare!