On June 19th, activists will march through Sheffield to call for an end to animal experiments. The starting point is now outside the Cathedral, just a couple of minutes from the original starting point at City Hall.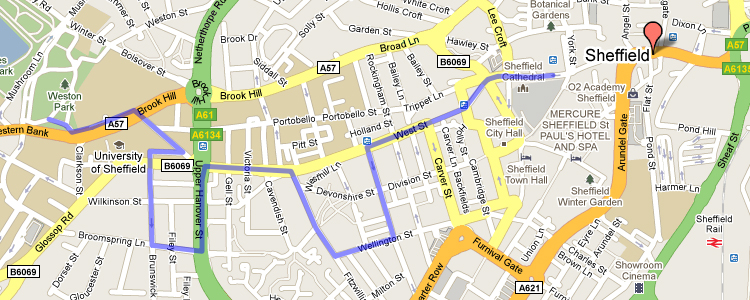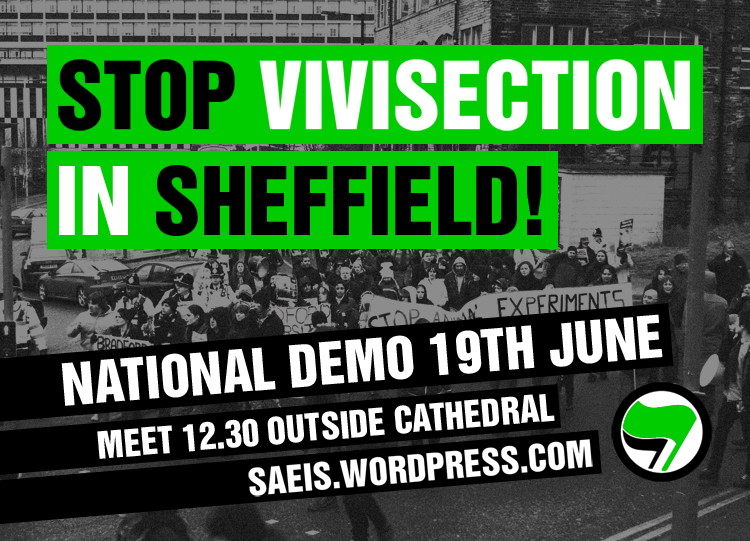 The June 19th demo 'Stop Vivisection In Sheffield' is fast approaching. If you haven't yet decided whether you can come, or haven't planned your transport, now is the time to get organised!
BACKGROUND
The march is part of a campaign against animal experiments at the University of Sheffield, which is responsible for the deaths of 30 000 animals every year as a direct result of vivisection. We launched the campaign with a demonstration on the university concourse (video at

http://bit.ly/arRH9T
and photos at

http://bit.ly/c5LsxB
) and intend to continue the campaign until the last laboratory is closed in Sheffield, and the last animal freed. We subscribe to the Animal Liberation Hallmarks:

http://www.al-hallmarks.net/
For more information on the campaign, please see

http://saeis.wordpress.com/
or for more information about animal rights activism in Sheffield, please visit

http://www.sheffieldaf.org.uk/
THE ROUTE
Due to clashes with other events in the city, the starting point has been changed from City Hall to the Cathedral, just a couple of minutes walk away. There will be a couple of people outside City Hall, directing any protestors who haven't heard about the change to the new meeting point. There will be some vegan food on sale outside the Cathedral and on the march, but the meeting point is also right by the Blue Moon vegetarian cafe. The march route is detailed on the attached map, winding through the city centre and up through the University of Sheffield to end in Weston Park. Sheffield Bike Festival is on the same day, so feel free to pop down to Devonshire Green afterwards!
HOW YOU CAN HELP
We still have lots of flyers to distribute before the march. Let us know if you can give some out in your area, or if you'd like to come flyering with others in Sheffield.
If you have space in your car or bus, we may be able to put you in touch with potential passengers (and vice versa). At the moment, we know of people from Southampton and Kings Lynn looking for lifts. If you need transport from London, or could be picked up from a service station on the M1, please email

info@londonanimalrights.org.uk
to see if there's room on the coach.
On the day, please bring banners, placards, flyers for other demos, megaphones, drums, whistles, and anything else that will make this a march to remember!
We need some people to volunteer as stewards – if you're happy to help guide the march and be a point of contact for protestors, please get in touch.
If you have any other questions, feel free to contact us at

saeis@hushmail.com