Four days of open access art space. Come and bring your art to display: painting, sculpture, photography, film, interactive art, performance, fashion, and whatever else you can imagine and make happen! There will also be nightly events, like film nights.

TAA Poster - application/pdf 244K

TAA Flyer - application/pdf 244K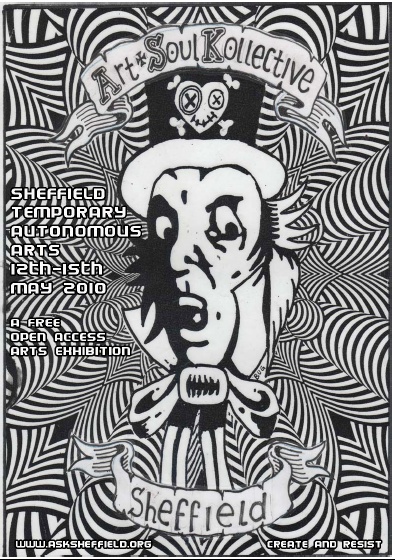 Temporary Autonomous Arts
Temporary Autonomous Arts (TAA) is about creating free, open access exhibition space by opening a disused building and making the space available to artists, to inspire creativity in all forms. TAA exhibitions exist outside the corporate world and established art elites. Not funded by the Council, the government, or by business. We are a group of artists and performers with a background in DIY culture. Power to the people! There will be no divide between artists, organisers, and visitors, in an atmosphere where everyone attending will hopefully be an active participant. To build community, to build cultures of resistance, encouraging everyone to take positive personal action in all areas of our lives. Direct action and environmental issues organisations are welcome to offer information stalls and displays, workshops and skillshares.
For more on TAA and to download flyer and poster for Sheffield:

http://www.randomartists.org/
* Weds 12th May: install art and set up
* Thurs 13th - Sat 15th May: open 12pm - midnight
* Plus shows each evening from 7.30pm
* Check website for details nearer the time