Please contact Artisan restaurant and Kittie's Kloset to ask that they stop selling foie gras and fur respectively. Read on for info about an anti-vivisection march in June and other upcoming events.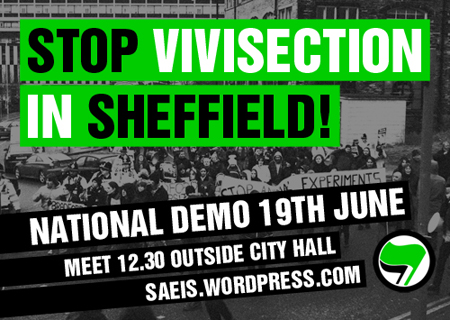 Demo flyer
FOIE GRAS
Artisan, a restaurant in the Crosspool suburb of Sheffield, has been found selling foie gras. Please contact the Head Chef, Dan Gower, on 0114 266 6096 or at 32-44 Sandygate Road to register your complaint.
Artisan is one of six businesses owned by restaurateur Richard Smith. We are calling for conscientious diners to boycott them all, until an overall policy is implemented to halt the sale of foie gras. Please contact them to check that they don't individually sell it, and to politely let them know why you are boycotting them. The vast majority of chefs decide not to rely on this particularly cruel "delicacy" in their cooking, but a boycott of all Smith's restaurants will bring forward the inevitable decision not to sell it at Artisan. The details of the restaurants are available at

http://bit.ly/dbbkcM
and you can read more about foie gras in our article about the London Club restaurant (no longer selling foie gras):

http://bit.ly/cJhoa7
VINTAGE FUR
Kittie's Kloset, a vintage clothes shop in the Forum complex on Devonshire Street, is selling full mink jackets. Campaigning by SAF has eliminated conventional fur from the city (as far as we know), but "vintage" fur perpetuates the fashion for wearing tortured animals and is the product of a murky distribution chain which may well involve the marketing of "new" fur as vintage. Please email Kittie's Kloset at

kittieskloset@hotmail.com
or ring up on 07738 262838, to ask that they adopt a fur-free policy. You can also contact the Forum at

property@forumsheffield.co.uk
or on 0114 2720569, to ask that they forbid their tenants from selling fur.
VIVISECTION
On June 19th there will be a march through the city, against vivisection at Sheffield University and the speciesist ideology which such animal abuse stems from. Please start thinking about transport, and organise with your local group how to get here. A coach will be coming up from London and can pick people up from service stations along the M1. If you'd like a lift, please send an email to

info@londonanimalrights.org.uk
ASAP.
There's a Facebook event at

http://bit.ly/b84BcX
which you can invite friends to. For more information about the demo, please visit the campaign website

http://www.saeis.wordpress.com/
or send an email to

saeis@hushmail.com
We have lots of other events coming up this month, listed on

http://www.sheffieldaf.org.uk/diary
and we'll be at the Sheffield Anarchist Bookfair on May 22nd, if you want to come down and say hi!