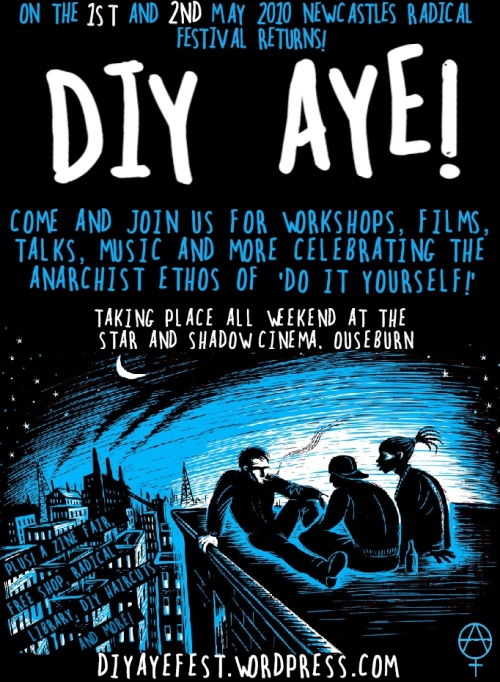 2010 Poster
DIY Aye! returns to the Star and Shadow this Mayday weekend.
Come and join us for workshops, talks, discussions, films, music and more celebrating the anarchist ethos of 'Do It Yourself!'.
We'll be having workshops on such things as sign language, poster art graffiti, book binding, knitting, juice carton wallets, squatting, screen-printing, drumming, zine making and loads more.
There'll also be meetings and talks on female fertility awareness (women only), Anarchist and other DIY theories, as well as a radical history talk on Tyneside workers involvement in the International Brigades. Plus loads more!
Plus! Films, music, poetry, a zine fair, free shop, diy haircuts and the opening of Newcastle's new Radical Library!
This year the DIY crew are also teaming up with the IWW to celebrate International Workers Day, so there'll be further films, talks and folk music!
DIY Aye is free! (donations appreciated though!) so come down and have fun and learn new stuff!
We'll hopefully have vegan food as well!
Invite your friends!