Resistance Magazine was created as a vehicle to inform, inspire, and energize the earth liberation movement. Humans have pushed the earth to the brink of catastrophe and each day that passes brings us one step closer to a planet that can no longer sustain life.
The question has now become not what we can do, but what we must do; not what we are comfortable with, but what we are fully capable of; not what is convenient, but what is completely necessary to stop the destruction of our home.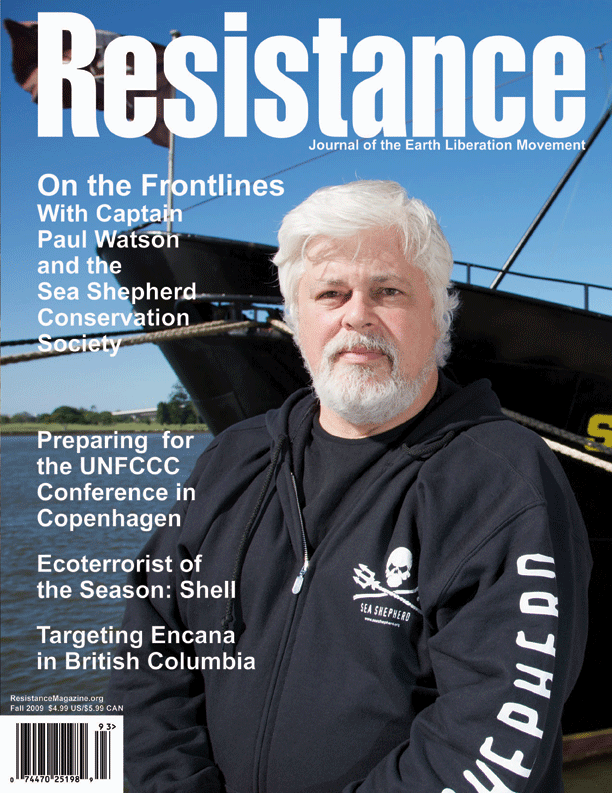 FOR IMMEDIATE RELEASE
October 19, 2009
New Radical Environmental Magazine to Hit Store Shelves in the U.S. and Canada Today
Los Angeles – Resistance, Journal of the Earth Liberation Movement is due to arrive Monday at hundreds of retail locations throughout the United States and Canada. Created by veteran activists in the environmental movement, Resistance is a quarterly magazine featuring the news, theory, strategy, and frontline action of the global struggle to protect the planet.
The North American launch of Resistance comes two months prior to the United Nations Climate Change Conference in Copenhagen where world leaders will attempt to agree on a global emissions reduction plan to replace the Kyoto Protocol set to expire in 2012.
Resistance, Journal of the Earth Liberation Movement was created to address the growing urgency of the climate crisis and to assist in building a stronger, more effective, unified, and broad-based environmental movement internationally. The magazine challenges the reader and movement to look beyond the failed strategies of the past environmental movement and to establish new tactics that will prove successful in stopping the threat of global warming.
The Fall 2009 issue of Resistance is now available and features:
• Cover Story: Interview with Paul Watson of the Sea Shepherd Conservation Society and Animal Planet's Whale Wars.
• Article: Gearing up for the UNFCCC Climate Conference in Copenhagen - will a post Kyoto agreement be reached by 2012?
• Article: Targeting Encana in British Columbia
• Article: Ecoterrorist of the Season: Shell
• Article: Inside the Oil Industry
• Security information, prisoner listings, earth liberation actions, and more.
Resistance, Journal of the Earth Liberation Movement is available through the following retail locations: Borders, Hastings, Books A Million, Chapters Indigo and dozens of independent stores. Retail price: $4.99 U.S./ $5.99 CAN.
Contact:
Resistance, Journal of the Earth Liberation Movement Wholesale/ Retail Inquiries

editor@resistancemagazine.org
Dave Kasza
www.resistancemagazine.org Disticor Distribution
(866) 476-0964 (905) 619-6565