You have the Power to Stop Deportations
You will need Courage, Persistence and Faith
An Anti-Deportation Campaign involves organizing resistance to restrictive immigration legislation, and simply means making the government change their minds regarding an individual case.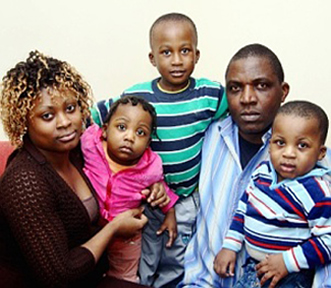 Claude Ndeh & Family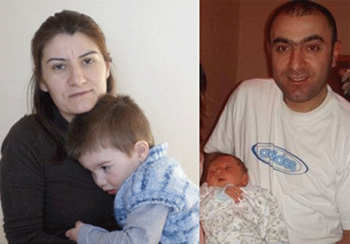 Hazar Family
We are here to Stay ~ Claude Ndeh & Family
Just to let you all know we have been granted 'Indefinite Leave to Remain', now we can hopefully start to get some closure on the horrors of last year. We would have been booted out of the UK if it had not been for the people of Sheffield who helped get the Ndeh Family Campaign off the ground and the magnificent support it received from all round the UK.
Thanks to everyone,
Claude Ndeh & Family
Background 2008:
The family were detained in Yarl's Wood Detention Centre awaiting deportation on the 17th May. They were arrested at 6:00am by 11 immigration officers. An example of the treatment they received is that the children were taken in their night clothes and soiled nappies and were not allowed to be changed until 2:00 pmin the afternoon. The family were not given time to pack but were kept in vans outside the police station in Sheffield for hours. They were then kept for a week in Yarls Wood in inadequate and unsuitable accommodation as no family room was available.. The children were not given medication for four days. When they were released the children were taken to The Childrens Hospital Sheffield where they received treatment and Kirsty one of the 20 month twins was kept in overnight.

http://tinyurl.com/NdehFamily
Hazar Family, another fight, another campaign
The family were detained whilst reporting on Monday 22nd June taken to Dungavel IRC and removal directions set for yesterday morning Monday 29th June.
Refugee Action York sprang into action and major efforts were made to stop the removal. They had no legal team and submitted themselves; fresh evidence and an application on behalf of the child - faxed this to immigration service at Heathrow who faxed it for decision to Liverpool.
Result removal stayed 11:00 pm Sunday night ~ but the family are not out of danger yet!
Ibrahim and his parents must stay!

http://www.refugeeactionyork.org/
Gulbarhar and Ibrahim make the front page of the North-West Evening Mail
'Barrow Mum and Child Face Deportation'

http://tinyurl.com/BarrowMail
Enquiries/information:
Esme Madill

e.madill@btinternet.com
End of Bulletin:
Source for this Message:
Claude Ndeh & Family
Hazar Family Campaign