WHAT: Performance of Asylum Dialogues
WHEN: June 18 @ 7:00pm, part of Refugee Week (13 – 21 June 2009)
WHERE: Upper Chapel, Norfolk Street, Sheffield, S1 2JD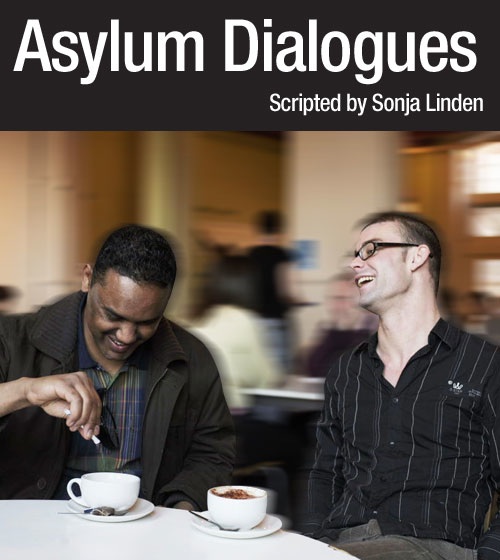 Before an unlikely friendship developed between John, a 66 year-old Birmingham accountant, and Angela, a 40 year-old Jamaican woman who cleaned his office, John admitted to believing the spin about asylum seekers perpetuated by the tabloid press and the government:
"I honestly used to say - send them all back home. They shouldn't be here. Taking all our money."
John even admits that he was considering voting for the BNP. But, he continues,
"Then this woman Angela turned up to clean my office and turned the world upside down."
John and Angela's story is part of Asylum Dialogues, a documentary play about real-life friendships between British people and asylum seekers, performed by iceandfire's outreach project Actors for Human Rights. The show will be touring to seven cities across the UK during Refugee Week 2009. Each city is part of the national City of Sanctuary movement, which aims to build a culture of hospitality for people seeking sanctuary in the UK.
Asylum Dialogues, scripted by award-winning playwright Sonja Linden, is drawn from actual conversations and reveals the moving, funny and poignant relationships between British people and refugees who have fled violence and persecution in their own countries.
Actors for Human Rights is iceandfire's network of professional actors which tours documentary plays about human rights issues around the UK. Their plays have been performed to over 15,000 people since the project's inception in 2006, and scripts include Asylum Monologues, Rendition Monologues, Palestine Monologues and The Illegals.
Juliet Stevenson, Sinead Cusack, Simon Callow, Kwame Kwei-Armah, Hayley Atwell, Thusitha Jayasundera and Louise Jameson are just some of the professional actors that support the network.
City of Sanctuary's goal is to create a network of towns and cities throughout the country that are proud to be places of safety. So far, ten cities have signed up to be part of the movement, including the seven included in this tour.
Craig Barnett, the Sheffield-based national coordinator of City of Sanctuarty, who are partnering with iceandfire in each city, said:
"If you listened to certain media stories, you'd be forgiven for thinking that nobody in the UK is willing to help asylum seekers and refugees through the difficulties they face here. Working with iceandfire to present Asylum Dialogues in Sheffield will help us to tell alternative tales of solidarity and inspire local people to stand shoulder to shoulder with those seeking sanctuary here."
Christine Bacon, co-Artistic Director of iceandfire, says using actors allows the stories of asylum seekers and refugees to be told to people who may not otherwise get a chance to hear them:
"As actors we can give faces and voices to the unseen and the unheard. We try to redress some of the misconceptions about asylum seekers and refugees with more accurate information and with personal stories that will appeal to many British audiences."
Asylum Dialogues can also be seen, for one night only, in the following cities:
Swansea, 13 June, 6:30pm
Norwich, 16 June, 7:30pm
Oxford, 17 June, 7:00pm
Bristol, 18 June, 6:00pm
Leicester, 19 June, 7:30pm
London, 21 June, 7:30pm
Notes:
iceandfire explores human rights stories through performance. The company was founded in 2003 by playwright Sonja Linden inspired by her seven years as writer in residence at the Medical Foundation for the Care of Victims of Torture. Over the last six years they have become a theatre company with a distinct, contemporary voice creating work of excellence across our four work strands: production, outreach, education and participation.
www.iceandfire.co.uk.
Actors for Human Rights is iceandfire's national outreach network, made up of over 350 professional actors who are dedicated to drawing public attention to a range of contemporary human rights concerns. The performers involved donate their time and their profile to encourage public acceptance of human rights and to give voice to people whose basic human rights have been violated.
iceandfire.co.uk/afhr
City of Sanctuary is a movement to build a culture of hospitality for people seeking sanctuary in the UK. It began in October 2005 in Sheffield. In September 2007, with the support of the City Council and over 70 local community organisations, Sheffield became the UK's first official 'City of Sanctuary' — a city that takes pride in the welcome it offers to people in need of safety.

http://www.cityofsanctuary.org.uk/