"'The past is not dead, it is living in us, and will be alive in the future which we are now helping to make.'"
William Morris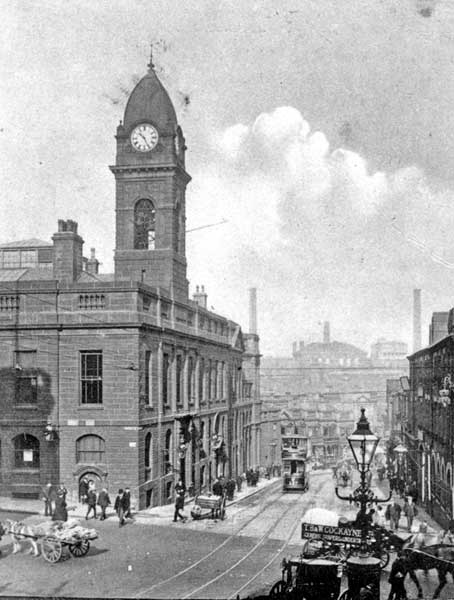 Sheffield Old Town Hall (past)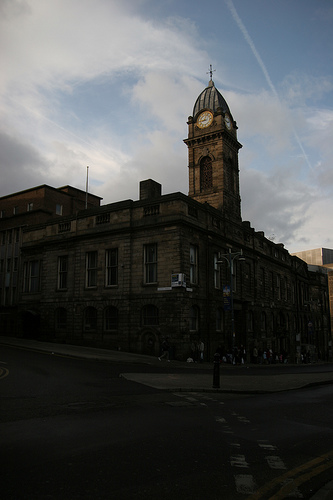 Sheffield Old Town Hall (present)
Sheffield Old Town Hall stands on Waingate in central Sheffield, England, opposite Castle Market.
The building was commissioned to replace Sheffield's first town hall, which had opened in 1700 to a design by William Renny. This first structure stood by the parish church, on a site with little prospect for extension.
The Old Town Hall was built in 1807–8 by Charles Watson, and was designed to house not only the Town Trustees but also the Petty and Quarter Sessions. The initial building was a five-bay structure fronting Castle Street, but it was extended in 1833 and again in 1866 by William Flockton (1804-1864) of Sheffield and his partner for the project, Abbott; the most prominent feature was the new central clock tower over a new main entrance that reoriented the building to Waingate. At the same time, the building's courtrooms were linked by underground passages to the neighbouring Sheffield Police Offices.
The first Town Council was elected in 1843 and took over the lease of the Town Trustees' hall in 1866. The following year, the building was extensively renovated, with a clock tower designed by Flockton & Abbott being added.
By the 1890s, the building had again become too small, and the current Sheffield Town Hall was built further south. The Old Town Hall was again extended in 1896-7, by the renamed Flockton, Gibbs & Flockton, and became Sheffield Crown Court and Sheffield High Court. In the 1990s, these courts moved to new premises, and since at least 1997 to present, the building remains disused.
In 2007, it was named by the Victorian Society as one of their top ten buildings most at-risk
Inside Sheffield Crown Court - REPORT - 23/12/07 ARCHIVED

http://www.28dayslater.co.uk/forums/showthread.php?t=24723
TALKS will be held this week to try to ensure Sheffield's former town hall at Castlegate does not fall into further dereliction.The council is to meet the owners of the listed building, last used as courts, but empty for more than ten years, which is on its Buildings at Risk register.
Concerns for the building, with its distinctive clock tower, have been raised by the Victorian Society following the recent snow. It wants the council to serve an urgent works notice on the owner.
"If something isn't done soon to secure the site then there is a real danger that the structural integrity of the building, and its Victorian court fittings, could be irreparably damaged," said Alex Baldwin, the society's conservation adviser.
Read more at

http://projectsheffield.wordpress.com/sheffields-old-crown-court/