Israeli media reported Monday that Israeli children from the town of Sderot have returned to school and normalcy. Meanwhile, children in every part of the Gaza Strip are either bleeding in overcrowded hospitals or sifting through the rubble of what used to be their schools, mosques and homes.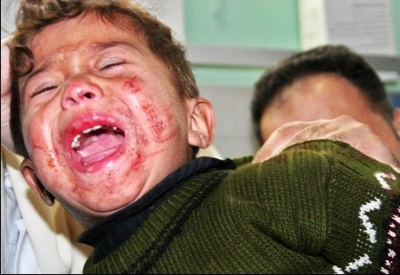 Image from electronicintifada.net
Eissa Ermallat, 12, was killed Saturday in Rafah while collecting firewood to try to heat his family's darkened home. He was among the last of the over 1300 Palestinians killed by Israeli forces in the three-week long offensive. While Ermallat was among the last casualties of the offensive itself, over a hundred bodies have been uncovered on Sunday and Monday, in the rubble of what used to be homes and apartment buildings.
Abed Sharafi, an ambulance driver in Gaza, told Al Jazeera television network that he had personally helped pull fifteen bodies from the rubble. He added, "They were so badly decomposed that we couldn't distinguish boys from girls. Some had been there for 15 days,"
Israeli gunboats are reportedly still firing rounds toward the Gaza beaches on Monday, according to local sources. And thousands of Palestinians are struggling to survive severe injuries inflicted by Israeli military forces over the last three weeks.
According to Israeli media sources, the Israeli military estimates that 500 Hamas fighters were killed in the invasion – which would imply that the remaining 800 Palestinians killed were civilians. Palestinian sources estimate that many more civilians than fighters were killed.
Initial estimates of damage have soared into the billions of dollars, with whole neighborhoods flattened, including large apartment buildings and multi-family homes. According to the United Nations humanitarian chief, around 400,000 Palestinians in Gaza remain without water – many of whom have been without water for close to two weeks. Staple foodstuffs are in short supply, with humanitarian aid caravans facing obstacles and border closures on both the Israeli-Gaza borders and the Egyptian Rafah crossing.
Meanwhile, Israeli reservists have been released to return home, and Israeli residents of the town of Sderot, built far from any other Israeli towns, on the border of the Gaza Strip, have returned home from their shelters in other parts of Israel. 18 Israelis were killed in the last three weeks, 14 of them soldiers – four of whom were killed by so-called 'friendly fire'.