No Borders South Wales recently held a protest outside the Newport passport office to raise awareness about the fact that ID cards come into effect for non-EU students and spouses from 25th November.

http://noborderswales.wordpress.com/2008/10/06/newport-protest-against-id-cards/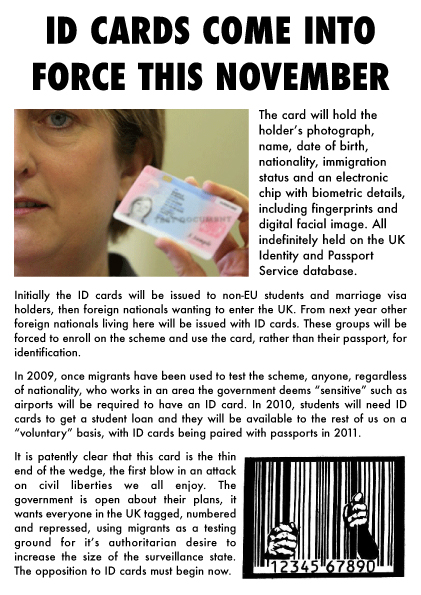 ID cards will be issued to non-EU students and spouses from regional offices in Birmingham, Cardiff, Croydon, Glasgow, Liverpool, and Sheffield from Tuesday 25th November.
No Borders South Wales will be holding a protest outside the office in Cardiff on the launch day. We call for protests outside each of the other offices on the same day.

http://noborderswales.wordpress.com/2008/11/01/oppose-the-launch-of-id-cards/
We encourage all opponents of ID cards to join us, or plan their own protests, you can download a leaflet to photocopy and distribute here:

http://noborderswales.files.wordpress.com/2008/11/idcardcallout.pdf