After hearing about Barclay's involvement with HLS, we decided to get involved and spread the message about HLS and Barclays. We got some leaflets and posters and went outside our local Barclay (who's also losing me as a customer!)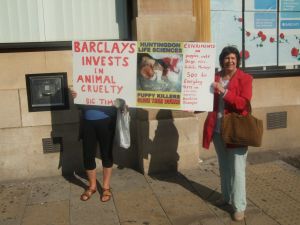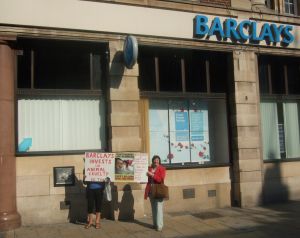 On Saturday 27th September we stood outside Barclays bank in Hull and the response from customers was positive but the management were not too keen there and rang police. Even though we were doing nothing more than handing out leaflets and talking to passers-by.
Probably Barclays would like all their business dealings under wraps, they certainly don't believe in freedom of speech!
The police, of course, didn't come. As they had much better things to do with their time, like trying to catch 'real' criminals. So we stayed giving out leaflets until we ran out.
As a newcomer to protests, I was amazed at Barclay's attitude to us, what have they got to hide!
To anyone that lives up this way, why not get involved with our local protests?