Show your strength of feeling against American Missile Defense by coming to Menwith Hill near Harrogate. This US system, which Brown quietly said yes to in 2007, is making huge waves in Eastern Europe: Poland has agreed to missiles and the Czech Republic, despite a majority of its people against, has agreed to the US radar component for MD. Russia is already comparing these plans to the Cuban Missile Crisis...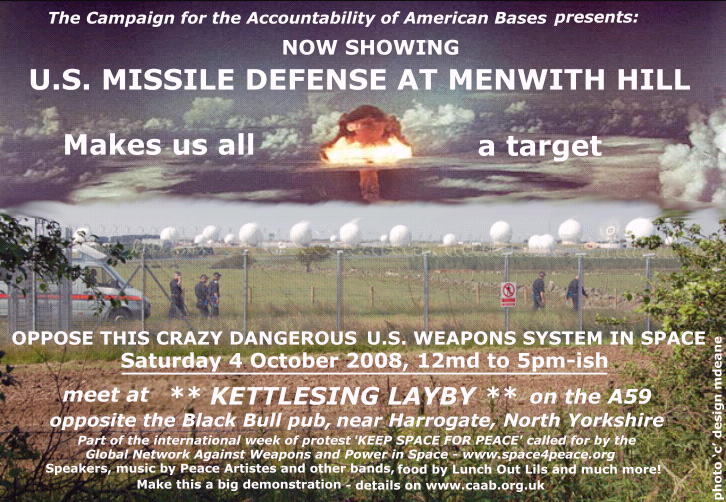 Come to Menwith Hill - Oct 4th.
CAAB holds an annual July 4th protest: Independence FROM America, and an autumn protest: Keep Space for Peace week. We also have weekly protests on Tuesday nights and have clocked up hundreds of arrests over the years!
START = This time we start in Kettlesing Layby HG3 2LP (opposite the Black Bull on the A59). TIME = 12 noon til 5-ish.
*** SO WHOSE COMING TO THIS IMPORTANT DEMONSTRATION ? (APART FROM LOTS OF PEOPLE !!!)
Musicians = * Lion Sound * Local group * Karl Dallas * Ylem www.myspace.com/ylemfolk * Monkey Wrenchers * Peace Artistes www.peaceartistes.org.uk
Speakers = Colin Challen (Labour MP Morley and Rothwell)
Rebecca Johnson (Acronym Institute for Disarmament Diplomacy)
Food = Lunch O'Lils
.......and much more
Have fun! Bring your friends!