The first attempt to evict the occupiers of Bodge House on 30th June was a spectacular flop. The registered owner of the site is Harworth Mining International Limited. The outfit applying for a possession order are Harworth Estates (Agricultural Land -Trashing Of) Limited. OK, we added the "Trashing Of" bit to that otherwise bucolic title, but otherwise report what is alleged to be just a change of name yer honour. Their problem was they hadn't bothered to give the court any actual proof of this supposed change of name.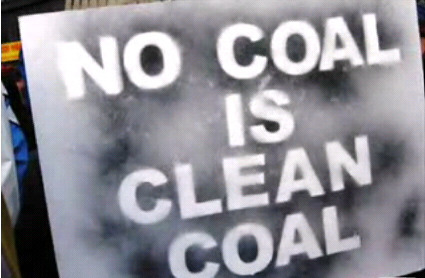 No New Coal !
"Ah yes, yer honour, the registered owner of the house is actually Mr D. Beckham, but that's me, honest, I've just changed me name, see. So go on, give us a possession order. Err..no, I left the bit of paper at home, but you can trust a chap like me, can't you?" Even the most bigoted of judicial dimwits isn't going to fall for that one!
This, and other drongo defects in their papers got Harworth Whatever-They-Call-Themselves-This- Week into self-abasement rituals and scrabbling for an adjournment before a scathing judge. Ha!
They'll be allowed to have another go on 18th July, but meantime they have been set further homework with a deadline of 10th July. If that's only half as much crap as their first attempt this could run and run.
MEANTIME, GET DOWN THERE AND SUPPORT THE OCCUPATION IF YOU CAN
For more info see the feature article here:

http://www.indymedia.org.uk/en/regions/nottinghamshire/2008/06/401445.html