Under the cover of darkness Lodge house open cast mine in Smalley, Derbyshire has the building squatted as well as trees with ariel runway.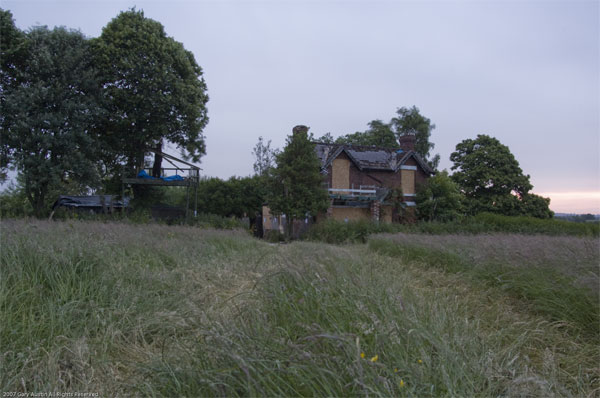 Bodge House
Under the cover of darkness activists have secured themselves in the Prospect Farm building, on the site which is about to be devastated by huge machines. Food and supplies have also been taken in for a long term occupation and barricades' had been set up preventing police form bringing in specialist equipment down Bell Lane, Smalley Derbyshire into the heart of the site. People are locked on by their necks behind the doors preventing force being used to gain entry by police or specialist teams and protesters have claimed squatter's rights.
The activists have dubbed the site to be called Bodge House.
We need more people on site to make additional preparations and secure other areas to stop open casting and build long term home.
Lodge house is owned by UK Coal, Britain's largest coal company and they plan to extract 1 million tonnes of coal from the 122 hector site. The area is about to be devastated, despite objections form local councils, residents and local environmental groups but the environment Secretary Hilary Benn granted planning permission in 2007 and work is set to commence imminently. New open cast mines are being actively supported by the government and the number of opencast mines going into the planning process and being approved is on the increase.
At Lodge House today, Andy Green said "We are here because the single greatest threat to the climate comes from burning coal. Coal fired generation is historically responsible for most of the CO2 in the air today – about half of all carbon dioxide emissions globally. Coal form open cast mines is dirtier than that from deep mines, so it is even worse!
Supplies are also needed
Site phone 07503 335870