Autonomous working class activists shut down the offices of Manpower in Sheffield city centre by d-locking the doors closed and filling the locks with glue. Posters were fly-posted onto the windows publicising the companies exploitation of migrant workers and anti-union politicies.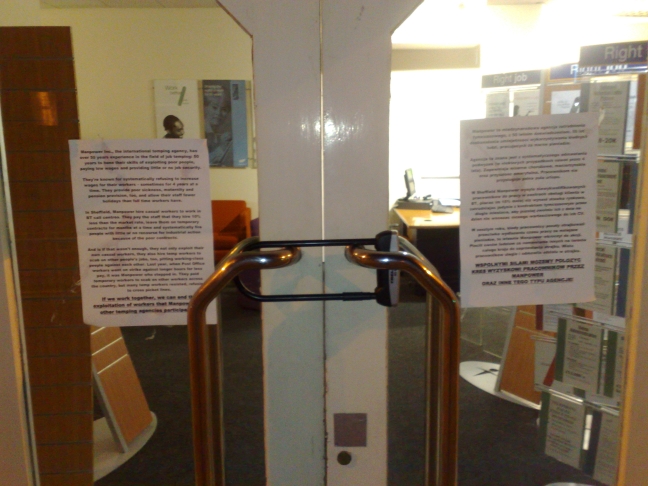 Manpower shut down.
Autonomous working class activists shut down the offices of Manpower in Sheffield city centre on the night of 15th June 2008. Posters and leaflets (in both English and Polish) were put up on the building and in the surrounding area exposing the companies exploitation of migrant workers and the need for working class unity to defeat the insecurity, low pay and poor conditions of casualised labour.
The text of the leaflets read as follows -
Manpower to miedzynarodowa agencja zatrudnienia tymczasowego, z 50 letnim doswiadczeniem. 50 lat doskonalenia umiejetnosci wykorzystywania biednych ludzi, pracujacych za marne pieniadze. Agencja ta znana jest z systematycznego odmawiania podwyzek (w niektorych przypadkach nawet przez 4 lata).
Zapewniaja mizerne chorobowe, macierzynskie oraz przyszlosc emerytalna. Pracownikom nie przysluguje pelna pula urlopu.
w Sheffield Manpower wysyla niewykwalifikowanych pracownikow do pracy w centrach obslugi klienta w BT, placac im 10% mniej niz wynosi stawka rynkowa,
zatrudniajac jedynie z kontraktem tymczasowym przez dlugie miesiace, aby puzniej zwolnic ich z dnia na dzien nie wnoszac niczego wartosciowego do ich CV.
W zeszlym roku, kiedy pracownicy poczty strajkowali przeciwko wydluzeniu czasu pracy za mniejsze pieniadze, to wlasnie Manpower wkroczyl do akcji.
Placili swoim ludziom za namawianie innych na terenie calego kraju do zaprzestania strajku. Wielu pracownikow uleglo i odmowilo udzialu w strajku.
WSPOLNYMI SILAMI MOZEMY POLOZYC KRES WYZYSKOWI PRACOWNIKOW PRZEZ MANPOWER ORAZ INNE TEGO TYPU AGENCJE
**************************************************************************************************
Manpower Inc., the international temping agency, has over 50 years experience in the field of job temping: 50 years to hone their skills of exploiting poor people, paying low wages and providing little or no job security. They're known for systematically refusing to increase wages for their workers – sometimes for 4 years at a time. They provide poor sickness, maternity and pension provision, too, and allow their staff fewer holidays than full time workers have.
In Sheffield, Manpower hire casual workers to work in BT call centres. They pay the staff that they hire 10% less than the market rate, leave them on temporary contracts for months at a time and systematically fire people with little or no recourse for industrial action because of the poor contracts.
And is if that wasn't enough, they not only exploit their own casual workers, they also hire temp workers to scab on other people's jobs, too, pitting working-class people against each other.
Last year, when Post Office workers went on strike against longer hours for less pay, it was Manpower who stepped in. They paid temporary workers to scab on other workers across the country, but many temp workers resisted, refusing to cross picket lines.
IF WE WORK TOGETHER, WE CAN END THE EXPLOITATION OF WORKERS THAT MANPOWER AND OTHER TEMPING AGENCIES PARTICIPATE IN.