Supporters of Claude Ndeh and his family demonstrate outside Sheffield Town Hall demanding that he and his family be allowed to stay in Sheffield.
Interview with Cath Swinny - mp3 2.9M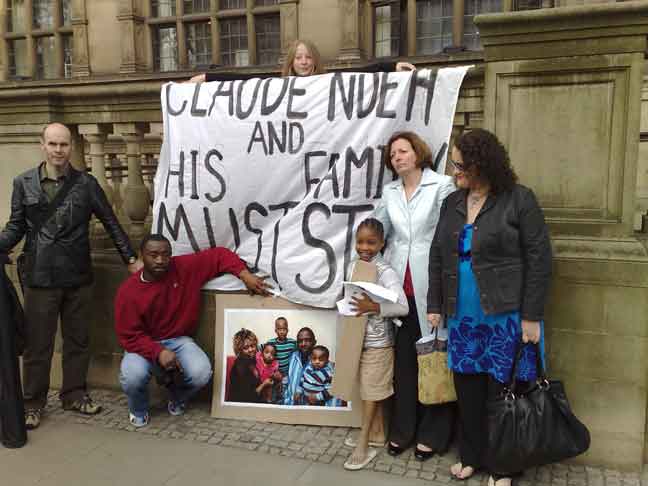 Outside Sheffield Town Hall
Claude Ndeh, a French teacher was tortured and imprisoned for eight months in Cameroon after
protesting against the illegal executions of nine young boys.
Claude Ndeh who is married with three young children was granted the right to remain in the UK by the High Court but the Home Office overturned their ruling. The immigration police have twice come ot his home to remove him while he was not at the house, and they told his wife that next time they will take her and the children alone.
Two of the children Kirsty and Cyril have sickle cell disease, a blood disorder and doctors at Sheffield Children's Hospital worry about their prognosis if they are forced to return to Cameroon.
The family are now in Yarls Wood detention centre where they are waiting deportation on Saturday 17th at 6:15 BA302 flight to Paris from Heathrow Terminal 5. Supporters of the family and asking that we phone
British Airways on 0844 493 0787 or go to the website HYPERLINK

http://www.britishairways.com
www.britishairways.com and tell them that the children have been denied medication for their sickle cell disease and as such they are not fit for travel.
The family are currently being held in a small room with two single beds and no cots and the children have had no medication since Sunday and cannot eat the prison food. They were not allowed to pack when the family was arrested at 6:30 on Sunday morning and they have no change of clothes.
Information from the leaflet handed out at the demonstration.