On Saturday 21st June Tyneside Community Action for Refugees (TCAR) will host an anti-racist conference in order to make links with other anti-racists and broaden the struggle against racism. The day will consist of a panel discussion, interactive and practical workshops and a plenary session to attempt to draw together some concrete plans for action against racism in the North of England.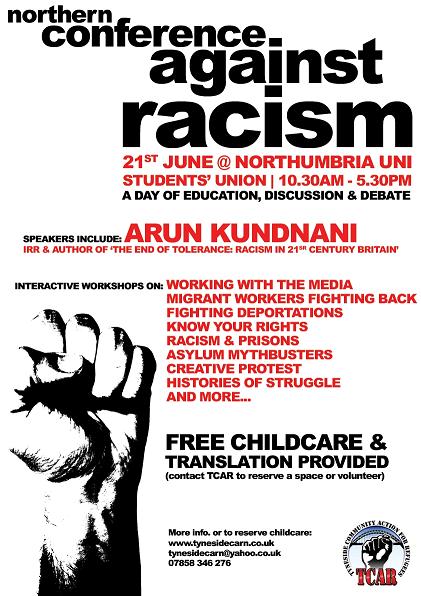 flyer for the event
Organisations and individuals from across the region are invited to participate and there is still room for additional workshops if anyone is interested in running one.
TCAR is appealing for help with the following areas:
Chefs - We want to provide food at lunch time so we need volunteers - from rice to cookies - all offers may be useful. If you write to us to express an interest we can give you more details when we know all the legislation. Please reply with 'chef' in the subject box.
Stewards on the day - Help is needed to set up, give people directions, help sign people in, serve food at lunch time and tidy up after the conference. Please reply with 'steward' in the subject box.
Childcare - TCAR will need professional childcare but we also need volunteers to help. As far as we know you don't need a CRB check as you will not be unsupervised but if you have one then that is a bonus. Please reply with 'child care' in the subject box.
Translation - we want to provide translation into as many languages as possible. It will be tiring for one person to translate all day so the more people the better. Please reply with 'translation' in the subject box.
Publicity. We need volunteers to put up posters in shops across the North of England and Scotland, from Byker to Blyth - all offers greatfully accepted. We aim to put up 1000 posters in the next 3 weeks! Please get in touch with 'posters' as the subject. Tell us how many you can put up and any preferences for which area. It is better of you can arrange to collect them next Saturday but for people further away we can send them out. We also need people to help advertise the conference in other ways, e.g by taking leaflets to night clubs like WHQ or to churches or to your workplace. Please reply with 'leaflets' as the subject.
Fundraising. MCdropdeadfred is organising a fundraising gig for the conference. If you play in a band, are willing to promote the night on myspace/ facebook or can help in any other way, please reply with 'gig' as the subject.
TCAR is also asking for sponsorship from all progressive individuals and organisations. This can be financial or 'in kind', such as offering to print some leaflets, make some food etc. If we want to achieve our goal of providing childcare so that women can participate effectively and travel support so that everyone can attend, no matter what their financial situation we need to raise money. We have produced a letter which can be given to union branches, churches and other organisations, just email us and we can send you a copy. Every penny counts. There are over 400 people on this mailing list. If everyone sent a cheque for £3 then the costs of the conference would be covered. Please make any cheques payable to Tyneside Community Action for Refugees (TCAR) and send them to TCAR c/o Books for Amnesty, 92 Westgate Road, Newcastle upon Tyne NE14AF
We look forward to hearing from you! Together we are stronger!