A day of talks and workshops on climate change solutions.
Sunday, February 10, 2008
10:00am - 6:00pm
Portland Building, Nottingham University Campus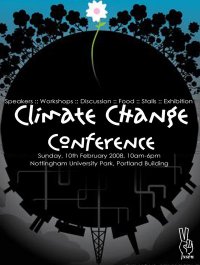 Poster
Everybody knows that climate change is happening, most know that the effects could be catastrophic, but what can we do about it?
The Climate Change Conference will focus on the issues of climate change and the best ways to go about tackling them.
Confirmed so far:
Matthew Humphreys
Co-Director, Centre for the Study of Social & Global Justice
Professor Jack Rieley
Specialist in Ecology, Environmental and Geomorphological Sciences
Nottingham Plane Stupid
Professor Colin Snape
School of Chemical, Environmental and Mining Engineering
Jerrome Baddley
Nottingham Energy Partnership
Dr. Mercedes Maroto-Valer
Centre for Innovation in Carbon Capture and Storage
Jane Burd
Co-Ordinatior, Nottinghamshire Greenpeace
Bicycology
Paul Chandler
Eastside Climate Action
Jon Beresford
Nottingham Against Incineration and Landfill
The Centre for Alternative Technology
Also confirmed is VEGGIES food! Plus workshops, stalls and exhibitions.
Hope to see you there!