Tyneside Community Action for Refugees (TCAR) would like to invite all local and national anti-racist groups and organisations to support our march against racism on 19th January (information below).
Stop Criminalising Immigrants! Freedom to Work! Freedom to Stay!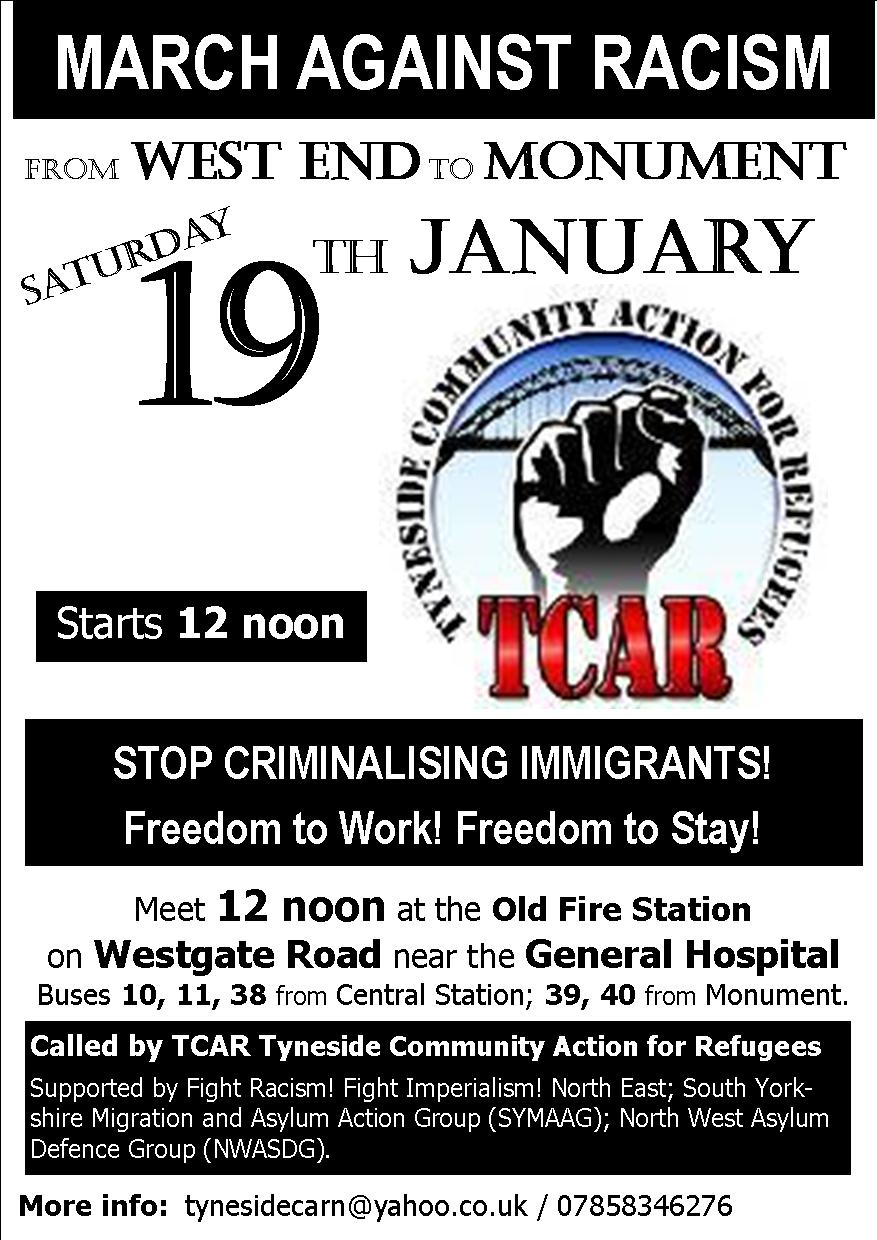 Download and share!
TCAR is an alliance between refugees and British citizens which struggles for asylum rights. TCAR recognises that the Labour Government is using racism as a divide and rule tactic and that asylum seekers cannot win their struggle alone. Racism affects all of us, not just asylum seekers but if we don't support each other then we cannot beat racism. TCAR needs support from our friends on the left, in the trade unions, in places of worship and in the voluntary sector to make this demonstration a success and to further the struggle against racism.
The Government is gradually making immigration a crime. In the last 10 years the Labour Government has introduced five major pieces of legislation on immigration, creating new 'offences' that apply exclusively to immigrants. Here are just a few examples of how immigrants are being turned into criminals:
• the right to work for asylum seekers was taken away in 1999
• stop and search policies by the police target black people
• so-called anti-terror laws do nothing to address the causes of terrorism, but are another way to terrorise and criminalise whole communities.
• Asylum seekers have to sign weekly or monthly at an Immigration Reporting Centre. Electronic tagging and telephone voice-recognition systems are used to track asylum seekers.
• Forcing asylum seekers to live where they are told and not allowing them to invite friends to stay at their house. At the same time we are forced to see friends go homeless and hungry due to government policies.
The right to work for asylum seekers was taken away in 1999. But many people are forced to work 'illegally' to look after their families because for asylum seekers with benefits, benefits are so low (70% of British benefits). And for asylum seekers receiving 'vouchers' or nothing at all, the situation is even worse.
Working is a right not a crime! It is not only asylum seekers who are affected by these racist policies. Many immigrants have strict controls on the jobs they are allowed to do and they have less rights than British workers. For example, they often have no rights to benefits if they lose their job and they may have to leave the country or become destitute.
TCAR is in solidarity with all immigrants and we also demand the right to decent work for everybody, both immigrants and people born in Britain. We stand against divide and rule tactics used by a racist Government and media. This is why we invite you to join a march against all racism on 19th January.
DEMANDS OF THE MARCH!
• WE DEMAND DECENT LEGAL WORK FOR ALL
• WE DEMAND AN END TO THE CRIMINALISATION OF IMMIGRANTS:
o No detention centres
o No reporting centres
o No tracking systems
o No stop and search laws
o No racist anti terror laws
• NO DEPORTATION! NO NEW ASYLUM MODEL
• NO DESTITUTION! DECENT HOUSING FOR ALL
• GET RID OF NASS
• FREEDOM TO STAY. FREEDOM TO WORK
If you have any demands you would like us to consider, please email them into us and we will discuss them in TCAR.
DETAILS OF THE MARCH
Saturday 19th January
March from General Hospital to Newcastle's Monument
Meet outside the Old Fire Station on West Road at 12noon
Bring banners, music, your friends and energy!
We look forward to seeing our friends and comrades from Sheffield, Rotherham, Doncaster, Middlesbrough, Sunderland, Manchester, Liverpool and Glasgow. Together we are stronger! Together we will win!