Recently back from a tour of the US where he met with Barack Obama, Al Sharpton and Jesse Jackson, Anthony Thomas is the new face of explosive black political activism.
'The civil rights generation black politics is dead'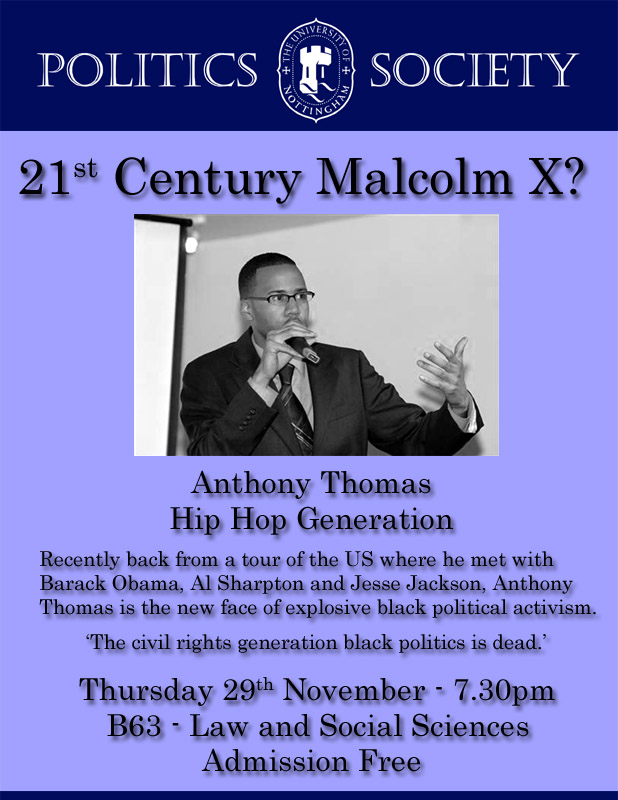 Anthony Thomas - 29th November
21ST CENTURY MALCOLM X
ANTHONY THOMAS – HIP HOP GENERATION
Who are the people who start the changes that shape popular opinion and make big changes to the stale political system?
In our first guest lecture of the year, the Politics Society proudly presents Anthony Thomas, the founder of Hip Hop Generation UK - an organisation that aims to provide a platform for a new black political leadership. Recently back from a tour of the USA where he met with BARACK OBAMA, JESSE JACKSON and AL SHARPTON, Anthony Thomas is one of the sharpest and most dynamic speakers to come out of the UK in recent years.
His explosive stage presence has seen him interviewed on Channel 4 News, Sky News and the BBC.
If you're interested in hip hop, how political power can be reclaimed by the people, the politics of racism or seeing one of the UK's most entertaining speakers then this event is unmissable!
Admission is FREE and absolutely everyone is welcome – whether you know anything about politics! No university card is needed to gain entry .
FREE DRINKS will be provided and there will be a chance to speak to Anthony after the event in a more relaxed atmosphere.
'The civil rights generation black politics is dead' – Anthony Thomas
THURSDAY 29TH NOVEMBER
7:30PM
B63 LAW AND SOCIAL SCIENCES
UNIVERSITY PARK CAMPUS