Urgent action needed - Iranian lesbian to be deported on Tuesday 28th August to face possible lashings, even perhaps being stoned to death

PegahMinister.doc - application/msword 30K

PegahAirline.doc - application/msword 24K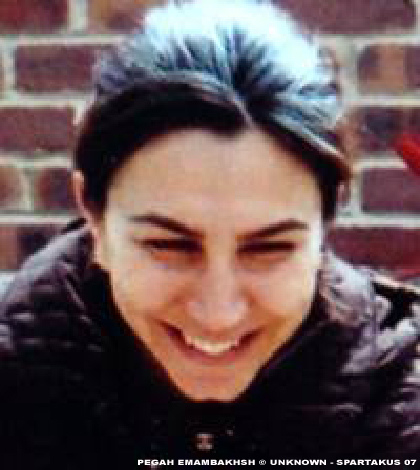 Pegah Emambakhsh
Quoting the Islamic Punishment Act:
"Art. 127 to 134 relate to lesbian sexual relations. Punishment for
sexual intercourse among lesbians is 100 lashes and in case of
recidivity (3 times) execution." Home Office, Iran Operational
Guidance, 27 February 2007
Pegah Emambakhsh is an Iranian woman who sought asylum in the UK in 2005. Her claim failed. She was arrested in Sheffield and is being held in Yarl's Wood Immigration Removal Centre pending deportation on Tuesday 28 August 2007 at 21.35 on British Airways flight BA6633 to Iran.
If returned to Iran, Pegah faces imprisonment and possibly stoning to death. Her crime in Iran is her sexual orientation - she was in a relationship with another woman.
Pegah escaped from Iran, claiming asylum, after her partner was arrested, tortured and subsequently sentenced to death by stoning. Her father was also arrested and interrogated about her whereabouts. He was eventually released but not before he had been tortured himself.
Pegah has a more than well founded fear of persecution if she is returned to Iran. She belongs to a group of people - gays and lesbians - who, it is well known, are severely persecuted in Iran.
According to Iranian human rights campaigners, many lesbians and gay men have been executed since the Ayatollahs came to power in 1979. According to gay rights group Outrage 'The Islamic Republic of Iran is qualitatively more homophobic than almost any other state on earth. Its government-promoted and religious-sanctioned torture and execution of lesbian, gay, bisexual and transgender people marks out Iran as a state acting in defiance of all agreed international human rights conventions.'
A change of president at about the time of Pegah's first refusal on Appeal in Autumn 2005 has since led to a more conservative and hard line regime in Iran. In 2006 a German court ruled that an Iranian lesbian could not be deported as she risked death because of her sexuality.
The UK Border and Immigration Agency (BIA) have chosen not to believe that she is in danger if returned to Iran, even though the UK government are well aware of the terrible situation that gay people face there.
The Foreign & Commonwealth Office (FCO), in a letter from Kim Howells to Linda McAvan MEP 15.8.07 regarding another matter, acknowledges that "Iran's human rights record is poor and deteriorating" and they have concerns about Iran's increasing use of the death penalty, public executions and the possibility of death by stoning; Kim Howells also writes in the same letter that the FCO "policy on the death penalty is clear - we oppose it in all forms"
In addition, Pegah's stated sexual orientation has now been picked up in an international internet campaign, including translations into Persian and Farsi. This makes Pegah not only a self-confessed lesbian but an internationally high profile one. This week Pegah's story has been taken up by a mainstream domestic Iranian news-site which is said to have government sponsorship and clearly, by its content, not a site that belongs to the Reformists.
Despite serious mental health problems, Pegah has been an active member of the community in Sheffield, volunteering for a refugee-support organisation, the Northern Refugee Centre. She is well respected and her claims of persecution if returned to Iran are taken seriously by those who know her and work with her.
Pegah's GP warned that she "would be likely to experience a total psychological breakdown" if she were to be deported. Please act now to stop Pegah being deported to a country where there is little doubt she will be persecuted, prosecuted and possibly stoned to death.
With the intervention of Pegah's constituency MP, Richard Caborn, an attempt to deport Pegah last week was deferred until Tuesday. Since then, Pegah's new solicitors have received new evidence and expert testimonies and intend to make a fresh claim for asylum. Another deferral of Pegah's of deportation is needed to give Pegah and her solicitor time to prepare and submit this fresh claim.
The BIA will be committing a serious miscarriage of justice and a gross human rights violation if they insist on Pegah's deportation. We must demand they act on their own guidance ;
"Where an individual claimant demonstrates that theirhomosexual acts
have brought them to the attention of the authorities to the extent
that on return to Iran they will face a real risk of punishment which
will be so harsh as to amount to persecution s/he should be granted
refugee status as a member of a particular social group."
Home Office, Iran Operationa Guidance, 27 February 2007
What you can do to help !
Immediate
1.) Please send urgent faxes to Rt. Hon. Jacqui Smith, Secretary of State for the Home Office asking that Pegah be granted protection in the UK. Please use the attached "model letter" PegahMinister.doc and/or you can copy/amend/write your own version (if you do so, please remember to include Pegah Emambakhsh's Home Office ref. no.
B1191057
Fax : 020 7035 4745 (0044 207 035 4745 if you are faxing from outside UK)
Please wait till Monday to fax BA
2.) Fax Willie Walsh, BA Chief Executive Officer British Airways.. Please use the attached "model letter" PegahAirline.doc and/or you can copy/amend/write your own version (if you do so, please remember to include Pegah Emambakhsh's removal flight details : Tuesday 28 August 2007 at 21.35 on BA6633 to Iran)
Fax: 020 8759 4314 (0044 20 8759 4314 if you are faxing from outside UK)
Please let the Friends of Pegah campaign know of any faxes you have sent ;
Contact :

pegahletters@mac.com