On 28th June 2007 Abu Bakr Deghayes who is Omar Deghayes brother and Jackie Chase of the Brighton based Save Omar campaign (

http://www.save-omar.org.uk/
) spoke at a public meeting in Sheffield: "Voices from Guantánamo - How the War on Terror terrorises the Innocent" (

http://www.indymedia.org.uk/en/regions/sheffield/2007/06/373557.html
).
Abu Deghayes and Jackie Chase - How the "War on Terror" Terrorises the Innocent - mp3 34M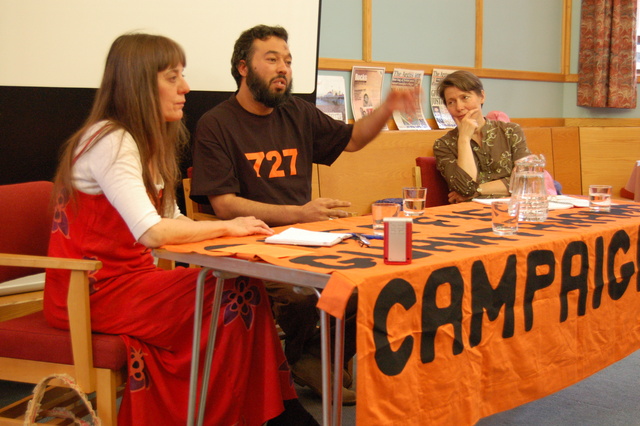 Jackie Chase, Abu Bakr Deghayes and Jillian Creasy
Omar Deghayes, a British resident, was kidnapped by bounty hunters in Pakistan (according to Retired Colonel Ann Wright 95% of detanies in Guantánamo were purchased by the US for between $5k and $25k each, Omar Deghayes cost them $5k, listen to

http://aud1.kpfa.org/data/20070605-Tue1700.mp3
|

http://www.flashpoints.net/archive/archive-2007-Jun-all.html#2007-06-05
for more on this) in 2001 and taken to Bagrama and from there to Guantánamo.
Moazzam Begg from Cage Prisoners (

http://www.cageprisoners.com/
) was unfortunally unable to attend due to illness, in his place the short film, Omar Deghayes: the search for justice was screened, you can watch and download this film here:

http://parsleyproductions.blip.tv/file/139884/
Attached is a audio recording of the meeting from 2%Human which starts with the introduction from Jillian Creasy, one of the two Sheffield Green Party (

http://www.sheffieldgreenparty.org.uk/
) Councillors, the recording misses out the film screening and then has Jackie Chase followed by Abu Bakr Deghayes and finally questions and contributions from the floor.
For further information see:
Save Omar Deghayes

http://www.save-omar.org.uk/
Cageprisoners.com

http://www.cageprisoners.com/
Campaign against Criminalising Communities

http://www.cacc.org.uk/
The National Guantanamo Coalition

http://www.guantanamo.org.uk/